Goa becomes India's first state to have resource efficiency strategy; measures suggested for tourism, construction sectors, and tackling marine litter
---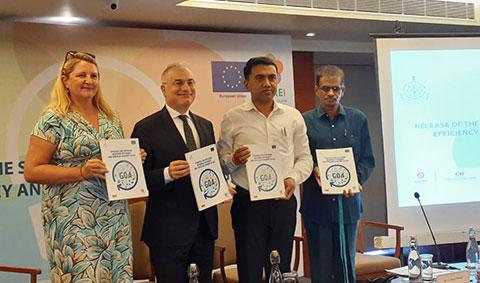 Chief Minister Dr Pramod Sawant and EU Ambassador Mr Ugo Astuto launched the strategy for 'Fostering Resource Efficiency and Circular Economy in Goa', which presents an overall state-level action plan to mainstream resource efficiency and circular economy and foster sustainable management of resources in the state
Panaji, February 24 2020: Dr Pramod Sawant, Honourable Chief Minister of Goa, and Mr Ugo Astuto, Ambassador of the European Union to India on Monday launched the strategy for 'Fostering Resource Efficiency and Circular Economy in Goa', making Goa a pioneering state to prepare such a strategy.
Releasing the paper at Vivanta Goa on Monday, Dr Sawant said, "The recommendations of the strategy will fill the gap and foster resource efficiency and circular economy and, through our collective efforts, create a sustainable Goa."
Talking about the collaboration, the EU Ambassador said, "We are extremely delighted to have been supporting the state of Goa in preparation of the Resource Efficiency and Circular Economy Strategy. We hope that this Strategy will contribute to creating a more sustainable and resource-efficiency future for Goa and will give a boost to its tourism sector. We stand committed to work in partnership with Goan and European actors on its implementation."
The strategy has been prepared by Directorate of Planning, Statistics and Evaluation (DPSE), Government of Goa, and The Energy and Resources Institute (TERI) was assigned to help them develop this Strategy with support from the EU-Resource Efficiency Initiative (EU-REI). The Strategy presents a resource efficiency roadmap for tourism and construction along with addressing the issue of marine litter.
The strategy recognises the emergent need to use resources judiciously across lifecycle stages, in order to sustain Goa's long-term development and societal wellbeing.
"The recommendations suggested in the strategy have the potential to address resource security concerns such as resource depletion, supply constraints, and rapid degradation of natural resource base, particularly by fostering the use of secondary raw materials across various products and services life cycles. It focusses on abiotic resources, specifically non-energy minerals (including construction minerals), given the current and projected explosive growth rates in material demand arising from Goa's growth," said Ashwini Pai Panandiker, Fellow at TERI's Coastal Ecology & Marine Resources Centre in Goa.
Tourism sector
The strategy document cites that the total number of tourists in Goa increased almost three times from 2,788,029 to 7,785,693 between 2012 and 2017. It adds that the total waste generation by local population per year is 250,645 tonnes and by tourists is 273,408 tonnes. It also says that Goa was found to be highest generator of beach debris among all states, with 40.9 kg debris per head.
To tackle this, the strategy suggests policies that encourage or incentivise tourists to choose green products and services, fines for littering at public places, and promotion of eco-friendly alternatives to plastics. It also suggests active engagement of markets and stakeholders towards waste management and cleanliness drives. This can be done through incentives for fishermen to remove debris, including plastics; financial awards for coastal villages that have integrated waste management systems to manage waste streams; and imposing taxes on tourists that would contribute to beach cleaning and improving waste infrastructure.
Construction sector
Estimates reveal that Construction & Demolition (C&D) waste in the state will increase to 35 tonnes per day (TPD) by 2040 from its current estimated generation of 25 TPD. This waste presents a vast opportunity for material recovery and recycling, thereby reducing illegal dumping and pressure on landfills. It also prevents land degradation and surface and groundwater contamination.
Estimation and collection of C&D waste, sustainable procurement, introduction of green construction guidelines, and use of economic instruments will facilitate the desired transition.
"The Resource Efficiency and Circular Economy strategy for Goa is a roadmap for achieving SDGs in a faster manner. I appreciate the TERI team for completing the strategy's preparation in a timely manner," said Dr Y Durga Prasad, Director, DPSE, Government of Goa.
The document recommends that the state form an inter-departmental committee to take forward the resource efficiency and circular economy agenda, beginning with the implementation of this action plan in the selected sectors. It also suggests that in the longer term, collection centres or drop-off sites for different types of household waste be set up across Goa and materials recovery facilities be constructed at different locations to sort recyclables and prepare them for reuse and awareness generation and capacity building exercises to be undertaken.
A white paper on 'Composting and Anaerobic Digestion: Promising Technologies for Organic Waste Management', produced by TERI and GIZ, under WasteNAMA project, was also released by the Honourable Chief Minister on the occasion.
About TERI
The Energy and Resources Institute (TERI) is an independent, multi-dimensional organisation, with capabilities in research, policy, consultancy and implementation. It has pioneered conversations and action in the energy, environment, climate change, and sustainability space for over four decades.
The institute's research and research-based solutions have had a transformative impact on industry and communities. Headquartered in New Delhi, it has regional centres and campuses in Gurugram, Bengaluru, Guwahati, Mumbai, Panaji, and Nainital, supported by a multidisciplinary team of scientists, sociologists, economists and engineers, and state-of-the-art infrastructure.
For further information, contact
TERI - Aastha Manocha - aastha.manocha@teri.res.in
Edelman - Rakhi Aurora - rakhi.aurora@edelman.com