Equity and climate justice touchstone of any global climate response: Environment Minister at TERI's Founder Day event
---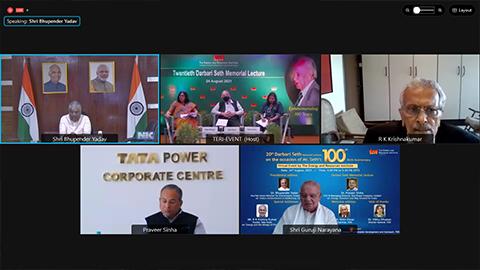 The minister stressed on the need for a responsive multilateral framework that ensures a fair share of carbon budget for each country, along with Common but Differentiated Responsibilities and Respective Capabilities and the Polluters Pay principles
New Delhi, August 24: Stressing that there is 'No Planet B', Sh. Bhupendra Yadav, Hon'ble Union Minister for Environment, Forest and Climate Change, said on Tuesday that an equitable space to achieve sustainable development requires due consideration to the principles of 'Common but Differentiated Responsibilities and Respective Capabilities (CBDR-RC)' and 'polluters pay'.
He said that equity and climate justice are the touchstones of any global climate response. He also added that climate change mitigation alone is necessary but not sufficient. "Long term strategies need to be guided by not only mitigation, but also by climate adaptation and climate stabilization," he said. The minister further stressed, "Only if equity, climate stabilization, and adaptation are duly considered at the global level can we say that we have formulated strategies that are just and in reverence for mother earth, our only planet". He also stressed on the importance of sustainable lifestyles and that 'habit and attitude' are as much a part of the solution as technology and finance.
"Even if the world reaches net zero by mid-century, the Earth's inertia and the accumulated greenhouse gases will still lead to climate impacts requiring due consideration of climate change adaptation measures. Developing countries are highly vulnerable to climate change impacts due to dependence of a large population on climate sensitive sectors for livelihoods," he said.
The minister made these comments in his presidential address at the 20th Darbari Seth Memorial Lecture, TERI's annual lecture held in the memory of its founder Mr Seth. He also highlighted that India is on track to achieve its goals on the Paris Climate Agreement by decoupling its emissions intensity from economic growth.
This year's memorial lecture was delivered by Dr Praveer Sinha, CEO & Managing Director, Tata Power Company Limited, on 'Energy Transition and Way Forward for India'. He pointed out the growing share of renewable energy, especially solar and wind, and the increased push for electric mobility, especially in the Indian context.
"We need to make India energy secure and must consider the need to promote domestic production of renewable energy technology along with large investment in its development. We need to align with global partners and encourage a global response. A sustainable power sector is both necessary and desirable in this journey and TERI can play a very critical and important role in policy, a research and development ecosystem, and start-up innovation in this area," he said.
Agreeing with him, Nitin Desai, Chairman, TERI, added, "Research and development, and looking into what we are going to require beyond energy efficiency and renewable energy, and beyond 2030, is of great importance today."
As this year also marks the 100th birth anniversary of Mr Seth, two prominent business leaders who had worked with him delivered Centenary Special Addresses on this occasion.
R K Krishna Kumar, Trustee, Tata Trusts, said that Mr Seth started TERI as he had a passion for curbing energy consumption - both in industries and society as a whole.
"Today, the tiny minority of the western world is tilting the delicate balance of energy to one side, leading to large scale catastrophes across the world. The developed world is shipping huge qualities of e-waste to the developing world where their hazardous elements are causing harm," he said in his address on 'Energy and the Mirage of Progress'.
Speaking on leadership qualities, G Narayana, Chairman Emeritus, Excel Industries Limited, recounted how the global energy crisis of the 1970s inspired Mr Seth to set up TERI.
"How we can preserve, conserve, reserve, and serve in that energy situation was what led him to build TERI," Mr Narayana said in his address on 'Shri Darbari Seth: An Inspiring Leader for Success and Sustainability'.
"Mr Seth was a both a keen learner and a teacher. Being with him was inspiring and required one to remain up to date on all emerging knowledge in one's field of expertise," Dr Vibha Dhawan, Director General, TERI, said on the occasion.
About TERI
The Energy and Resources Institute (TERI) is an independent, multi-dimensional organization, with capabilities in research, policy, consultancy, and implementation. It has pioneered conversations and action in the energy, environment, climate change, and sustainability space for over four decades. The institute's research and research-based solutions have had a transformative impact on industry and communities. Headquartered in New Delhi, it has regional centers and campuses in Gurugram, Bengaluru, Guwahati, Mumbai, Panaji, and Nainital, supported by a multi-disciplinary team of scientists, sociologists, economists and engineers, and state-of-the-art infrastructure.