DULT, TERI sign MoU to work on developing low-carbon urban freight in Karnataka
---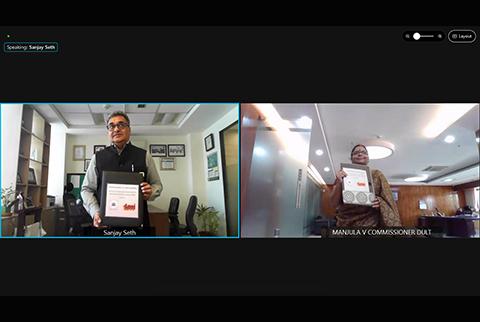 TERI and the DULT will focus on developing a low-carbon strategy for Karnataka's urban freight sector.
New Delhi, June 30: The Energy and Resources Institute (TERI) and the Directorate of Urban Land Transport (DULT), Government of Karnataka, on Wednesday signed a Memorandum of Understanding (MoU) to collaborate on developing a low carbon urban freight in the state of Karnataka.
The two organizations also aim to collaboratively develop a low-carbon strategy for the state's urban freight sector. The effort would be to identify simple, implementable solutions to reduce emissions and costs in the urban freight sector.
On the occasion, V Manjula, IAS, Commissioner, DULT, & E/o Additional Chief Secretary, Government of Karnataka said, "Cities are built around commerce and hence urban freight is an important component of cities' mobility network. It is important to gather insights on the evolution of urban freight, understand its structure and impacts on twin issues of congestion and pollution, to develop appropriate policy framework. Through this collaboration, we intend to benefit from TERI's expertise in Urban Freight and energy sectors to make Karnataka a frontrunner in promoting innovative solutions in Urban Freight."
Sanjay Seth, Senior Director, Sustainable Habitat, TERI, added, "In the current scenario, there is a lot of potential in the urban freight sector to start sustainable change. The Karnataka government has been actively working in the low and zero-emission transport sector and this MoU will further the effort in the urban logistics and freight sector. Government support and public awareness is critical, along with technological advancements for the sector that will accelerate and bring about positive change."
The MoU, which was signed virtually, comes close on the heels of the launch of the Sustainable Urban Freight Coalition (SUFC) of which DULT is also a member. The SUFC aims to promote and achieve sustainability in the sector and move towards achieving the vision of decarbonization of India's transport sector by 2030.
About DULT
DULT was set up in 2007 by the Government of Karnataka (GoK) under the Urban Development Department (UDD) with the objective to coordinate planning and implementation of Urban Transport projects and programs. The Directorate is in general responsible for overseeing all the urban land transport initiatives in Urban/ Local Planning Areas of Karnataka and administers the State Urban Transport Fund (SUTF). Since its inception, DULT's focus has been on promoting sustainable mobility in urban areas in the State. DULT has played a seminal role in the preparation of mobility plans for key cities in the State; planning, financing and facilitating the first BRTS in Karnataka in Hubballi-Dharwad; introduction and/or augmentation of organised city transport in more than twenty cities in the State; and the first public bicycle sharing system in Karnataka.
About TERI
The Energy and Resources Institute (TERI) is an independent, multi-dimensional organization, with capabilities in research, policy, consultancy, and implementation. It has pioneered conversations and action in the energy, environment, climate change, and sustainability space for over four decades.
The institute's research and research-based solutions have had a transformative impact on industry and communities. Headquartered in New Delhi, it has regional centres and campuses in Gurugram, Bengaluru, Guwahati, Mumbai, Panaji, and Nainital, supported by a multi-disciplinary team of scientists, sociologists, economists and engineers, and state-of-the-art infrastructure.