'Digital economy has emerged as the key driver for global economic growth,' says Sanjay Dhotre
---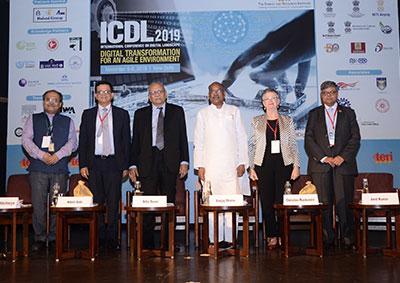 New Delhi, November 07, 2019: The International Conference on Digital Landscape (ICDL), the flagship event organized The Energy and Resources Institute (TERI) every three years, is being held at the India Habitat Centre, New Delhi, from November 6-8, 2019. The theme for the 6th edition of ICDL is "Digital Transformation for an Agile Environment" and the three-day event will focus on digital library and research, and digital transformation for Sustainable Development Goals (SDGs).
Inaugurating ICDL 2019, Sanjay Dhotre, Minister of State for HRD, Telecommunication, Electronics & IT, Government of India, emphasised on the need for greater penetration of digital initiatives for the common man so that a strong Digital India, as envisioned by PM Prime Minister, is achieved further. "Digital Transformation is all about revolutionising the organisation and institution, its activities and operations, addressing the needs of various stakeholders, new trends and new technologies. In the 21st century, the digital economy has emerged as the key driver for global economic growth and will also address common global challenges, including energy, environment and inequality. Due to uneven distribution of digital resources, including access to the internet, has posed challenges of the outreach of benefits to all regions, both locally and globally. We need to harness the digital technology to bridge the digital divide by harnessing the benefits for empowering and improving the lives of citizens."
Setting the agenda for #ICDL2019, TERI Chairman Nitin Desai, said, "In many ways, we are living in a world which is more and more of a knowledge economy. And TERI's job is to light the lamp of knowledge wherever we can. We are particularly interested in any of the process of generation of knowledge, dissemination of knowledge and people's access to knowledge. In particular, #ICDL2019 seeks to explore that role of digital transformation in meeting #SDG objectives, innovative digital technologies, data use and protection, cybersecurity and future pedagogy of education."
Nikhil Seth, Assistant Secretary-General, United Nations (UN) and Executive Director, United Nations Institute for Training and Research (UNITAR), talked on the role of UN in achieving SDGs and elucidated on various digital platforms — https://www.uncclearn.org/ and https://www.unsdglearn.org/ — developed by UNITAR that have become the gold standard on climate change and SDG learning.
Christine Mackenzie, President, International Federation of Library Association (IFLA) and Institutions, on the other hand, highlighted IFLA's commitment to SDGs through its various functions and activities. Talking about the event, PK Bhattacharya, Associate Director, Knowledge Resource Centre, said, "ICDL has taken centre stage in promoting digital library research and bridging the digital divide amongst library enthusiasts across the globe. The theme for ICDL 2019 — "Digital transformation for an agile environment" — will not only create a roadmap to guide through what will come next but also help prepare ourselves for new challenges and opportunities. The event will address emerging trends and issues that accelerate Digital Transformation in institutions across countries."
About ICDL
Over the years, ICDL has become one of the premier international platforms to facilitate the exchange of knowledge on all aspects of digital libraries, and the previous events had received a tremendous response from industry professionals and digital library communities across the world.
The three-day event will bring together leaders spearheading digital disruptions in their organizations to offer insights and knowledge on how we are creating a sustainable and smart future.
ICDL 2019 has identified Industry 4.0 as one of the key areas where digital transformation is undergoing a paradigm shift. To achieve Sustainable Development Goals (SDGs), digital disruptions, application of analytics, artificial intelligence and IoT applications are taking place in manufacturing and service-oriented industries in many processes. Digital transformation is a continuously changing process that represents a fundamental change in how organizations should operate in a digital world. It modernizes an organization or community with digital technology at its core—one that uses the power of today's technologies to create new forms of organizations/communities value chain for the future. The event will bring together leaders spearheading digital disruptions in their organizations to offer insights, knowledge, and case studies on contemporary issues and challenges of digital transformation.
ICDL 2019 will focus on specialized workshops and thematic events including those focusing on Knowledge & Innovation, AI and Analytics, Research Data Management, Open/Digital Archives, Revolutionizing Digital Publishing, Digital Transformation in Public Libraries, Digital Marketing Tools & Techniques, Social Media Applications, among many others.
The conference will comprise an educative mix of events such as Plenary Sessions and Thematic Tracks highlighting recent digital library research across the globe by the luminaries, workshops addressing contemporary issues to a focused group of stakeholders, thematic events in select niche areas for business houses and academics, exhibition by national and international knowledge vendors and publishers, and stakeholders engagement in digital platform using online collaborating tools.
ICDL 2019 has received 82 papers, which underwent a rigorous review process and finally, 45 papers have been selected for oral, and 15 papers have been selected for poster presentation. These papers will be presented in different tracks during the event.
About TERI
The Energy and Resources Institute (TERI) is an independent, multi-dimensional organisation, with capabilities in research, policy, consultancy and implementation. It has pioneered conversations and action in the energy, environment, climate change, and sustainability space for over four decades. The institute's research and research-based solutions have had a transformative impact on industry and communities. Headquartered in New Delhi, it has regional centres and campuses in Gurugram, Bengaluru, Guwahati, Mumbai, Panaji, and Nainital, supported by a multidisciplinary team of scientists, sociologists, economists and engineers, and state-of-the-art infrastructure.
For further information, contact:
TERI – Dhawal Trivedi: dhawal.trivedi@teri.res.in
Edelman – Rakhi Aurora: rakhi.aurora@edelman.com