Hon'ble Minister of State for HRD, Electronics and IT was speaking at the inaugural ceremony of the sixth International Conference on Digital Landscape 2019 being organised by TERI on November 6, 2019. He spoke exhaustively on how digital transformation can help create an agile environment, elucidating it with the example of government's Digital India programme, and how digitalisation has enormous power to address many of the socio economic challenges leading to a more equitable society.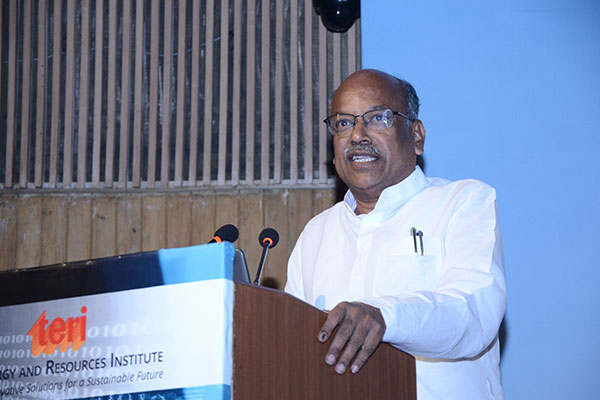 With the Digital Transformation, in all sectors across the world has taken over the process of accumulation, transactions, decision making, marketing and dissemination of knowledge with ease and accuracy. Today, Digital Transformation is no more a concept in incubating stage, but a reality with cutting edge precision. Digitization and the digital transformation have taken proactive steps to transform the economy into the digital domain bringing revolution into business decisions, policy-making and become iconic in accelerating the on-going global processes of change in society. Digital transformation can involve many different technologies, but the hottest topics right now are the Internet of Things, cloud computing, big data, and artificial intelligence. Digitization – going paperless — can save money, boost productivity, save space, make documentation and information sharing easier, keep personal information more secure, and also help agriculture and the environment.
Conference on Digital Landscape ICDL 2019: Digital Transformation for an Agile Environment, the Sixth in the series conducted in every three years by The Energy and Resource Institute, is about revolutionizing internal operations and functions of organizations and institutions in addressing the needs of their various stakeholders by sustainably embracing new trends and technologies.
Transformation is about revolutionising the way organisation and institutions are continuously changing internal operations and activities, addressing the need of various stakeholders, and embracing new trends and technologies.
An agile approach is to roll out new initiatives across the organisation, which will ensure all team members to quickly adapt and deliver key product and service innovations and survive in a rapidly developing digital world.
In the 21st Century, the digital economy has emerged as a key driver for global economic growth, and will also effectively address common global challenges including energy, environment and inequality. However, due to uneven distribution of digital resources including access to internet has posed challenges with regard to outreach of the benefits to all sections and regions globally. We need to harness the digital technologies and the internet to bridge the digital divide, empowering and improving the quality of life of our citizens.
Our Digital India programme has shown that digitalisation has enormous power to address many of the socio economic challenges leading to a more equitable society. Whereas we are in midst of massive digitalisation but at the same time adequate steps are being taken to ensure security and privacy of personnel data. We believe that the advantages of digital technologies through harnessing data can be through providing the anonymity of such data.
Digital Economy refers to a broad range of economic activities that include using digitised information, effective use of information and communication technology (ICT) as an important driver of productivity growth and economic structural optimisation. Internet, cloud computing, big data, Internet of Things (IoT), fin-tech and other new digital technologies are used to collect, store, analyze, and share information digitally and transform social interactions.
We are implementing "Digital India" programme with a mandate to empower the common man of the country with a vision on three key areas: Digital Infrastructure as a utility to every citizen, governance and services on demand, digital empowerment of citizens.
The huge potential of Internet can be unleashed only through digital empowerment reaching the last mile. For this three important ingredients are required: Broad connectivity, e-literacy and availability of digital content in local languages.
Digital India has also laid a robust foundation for India to embark on Digital Transformation. Programmes like AADHAAR, JAM Trinity (Jan Dhan Accounts, AADHAAR and Mobile), BHIM, eSign, Digital Locker, Aadhaar Enabled Payment System (AEPS) are now able to connect and empower our society in a way not conceivable earlier. Whereas 1.17 billion people, including 99% of adults now have a unique digital identity called AADHAAR, there are more the 1 billion mobile users and also 1 billion bank accounts. The combination of the three is being leveraged for bringing transparency, accountability and efficiency in various government schemes and programmes directly impacting the life of common man.
Digital India has the potential to create a 1 trillion USD digital economy in the next few years. Special emphasis is placed on agriculture, health, education and skilling. The United Nations has adopted 17 goals for Sustainable Development of the world by 2030. I would like to state that Digital India is a live and working example to the world on how these goals can be realized using digital technologies.
Digital India is enabling technological empowerment that is bridging the gap between haves and have nots. India's digital story is the story of a low-cost world-class technology that is being hailed across the globe.
India is trying to address the problem of Internet Access through a megaproject namely "Bharatnet", where a GB connectivity is proposed to be operationalised soon in all our 2.5 lakhs panchayats with over 2 lakh Kms network.
More than 2.5 lakh Common Service Centres (CSCs) as digital kiosks to provide services to citizens in rural areas is being implemented through public-private partnership. CSC is a unique PPP model where micro-entrepreneurs are creating sustainable livelihoods and bringing digital revolution in the villages of India.
Mobile penetration has now crossed one billion Indian residents and nearly 450 million citizens have Internet connectivity.
India has identified Digital Payments, Make In India, Start-Up India, Skill India, 100 Smart Cities, 50 Metro Projects and Swachh Bharat to be the key drivers of the Digital Economy.
The point to be highlighted here is that the digital transformation is a product of structured thinking which is visible in the sequencing of the digital initiatives. The next in line is the greater penetration of this transformation for the common man.
For this India has been focussing on the connectivity, Training and upskilling. Rural tele-density has reached to more than 50.04% under Mobile connectivity. 48,300 seats have been approved under India BPO scheme and over 5000 seats have been approved for BPOs in North East. 550,000 students have been trained for IT sector jobs by National Institute for Electronics & Information Technology (NIELIT) under MeitY. Telecom Sector Skill Council (TSSC) has empanelled 157 training partners across the country and trained 1.21 lakh persons so far in Telecom Training courses. Around 3.4 million candidates have been enrolled for training, 2.5 million candidates have been trained and more than 635,000 candidates have been certified so far under Digital Literacy Program (Digital Saksharta Abhiyan)
Transformation is not possible without strong intent. I am happy to mention that Hon'ble PM Sh Narendra Modiji has this strong intention for making a strong Digital India. Coupled with it such conferences as done by TERI today would certainly give all stakeholders repository of great thoughts, facts and figures. I am sure that your participation would add value to the event and surely would be fruitful to your future endeavours.