Membership Benefits and Initiatives
Membership Benefits – Summary
All Members

Additional benefits for Gold members

2 person-days complimentary consulting support annually
10% discount on paid consulting services
Membership of Board Member and CSO Forums
Complimentary participation of CEO in TERI's flagship WSDS
Participation in programmes of bilateral agencies (Dutch, British, Norwegian) to explore sustainability business options
Participation in pilots, working groups, policy dialogues
Company's logo and practices in TERI site, publications etc.

Complimentary assessment of the sustainability report
Leadership roles in pilots, working groups, policy dialogues
Complimentary participation of 2 officials in flagship events
Speaking opportunities at WSDS, MDPs
Discounts on TERI facilities (golf course, cricket ground) and organic products
Complimentary access to TERI-hosted World Digital Library on Sus. Dev.
Initiatives
Thought Leadership Webinar Series for Indian Companies
TERI CBS Knowledge articles and blogs
TERI CBS Thought Leadership Reports
Meetings of TERI CBS Chief Sustainability Officers' (CSO) Forum
Meetings of TERI CBS Director's Forum on Sustainability
Platforms to engage with policy makers and drive innovation in research, technology
Annual Summits and Events
Planned Engagements with Council Members in FY 2020-21 Half Yearly Report of TERI CBS FY 19-20 Annual Report of TERI CBS FY 18-19
---
Member Services
Services to Individual TERI CBS Members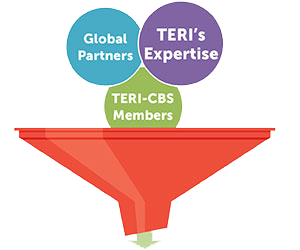 Sustainability Strategy and RoadmapDevelopment

Participation in Policy Advocacy Initiatives

Performance Benchmarking and Performance improvement

Training and Capacity Building
For all members

For Individual members

Co-creating business solutions with members to address national sustainability challenges
Policy advocacy through:

Thought Leadership
Industry dialogues/forums

Curating common interest forums of member companies:

Board members
Chief Sustainability Officers

Capacity building through trainings, MDPs, learning visits, webinars, conferences

Tailor-made advisory services:

Strategy development
Performance assessment and improvement
Capacity building, training and MDPs

Showcasing best practices at TERI events, publications etc.
Leveraging TERI's programmes/ initiatives to develop impactful CSR initiatives
Access to TERI's technology, knowledge, expertise
---
Executive Committee and TERI CBS Members
Executive Committee (2018-21)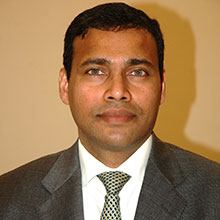 Mr R Mukundan
Managing Director, Tata Chemicals Ltd
Co-Chair, TERI CBS
Mr. Mahendra Singhi
MD and CEO, Dalmia Cement (Bharat) Ltd
Co-Chair, TERI CBS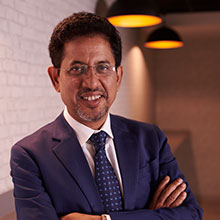 Mr Rajiv Ranjan Mishra
Managing Director, CLP Power India Pvt Ltd
Member, TERI CBS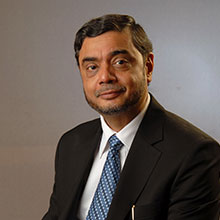 Mr S P Shukla
Group President-Aerospace, Defence & Steel, Chairman-Group Sustainability Council at Mahindra
Member, TERI CBS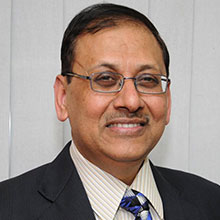 Mr Deepak Amitabh
Chairman & Managing Director, PTC India Ltd
Member, TERI CBS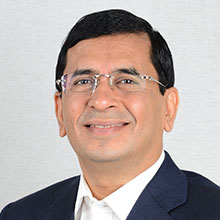 Mr Anil B Jain
Vice Chairman & Managing Director, Jain Irrigation Systems Ltd
Member, TERI CBS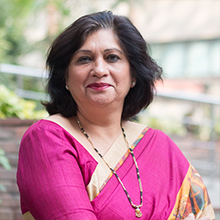 Dr Vibha Dhawan
Director General, TERI
President, TERI CBS
---
Members


















































































































---
Partners
---
Join Us
Model & Terms of Membership
Item
Details
Governance
CEOs of member companies by invitation and referral
Member participation

CEO
Chief Sustainability Officers
Domain experts

Term of membership
3 years
Types of membership
Silver
Gold
Membership fee
Silver: Rs 10 lakhs
Gold : Rs 20 lakhs
Benefits of membership

Technical support
Networking opportunities
Branding and recognition opportunities
Access to TERI's products and facilities
Member Engagement
Eligibility
Membership to TERI Council is by invitation and referrals only. Members are registered public and private sector companies, including MNCs. Membership not offered for individuals. To know more about membership details write to us at businesscouncil@teri.res.in
---
Contact Us
TERI-Council for Business Sustainability
TERI (The Energy and Resources Institute)
Core 6C, Darbari Seth Block
India Habitat Centre
Tel.(+91 11) 2468 2100
Fax (+91 11) 2468 2144 and 24682145