Monitoring of community wastewater for early signalling the spread of COVID-19 in Chennai City
Ms Mary Abraham
Online
---
The Novel Coronavirus (COVID 19) outbreak caused by infection of severe acute respiratory syndrome coronavirus 2 (SARS-CoV-2) turned out to be one of the worst pandemics of the century spreading across to 216 countries with more than 48.88 million cases recorded and 1.23 million deaths till date.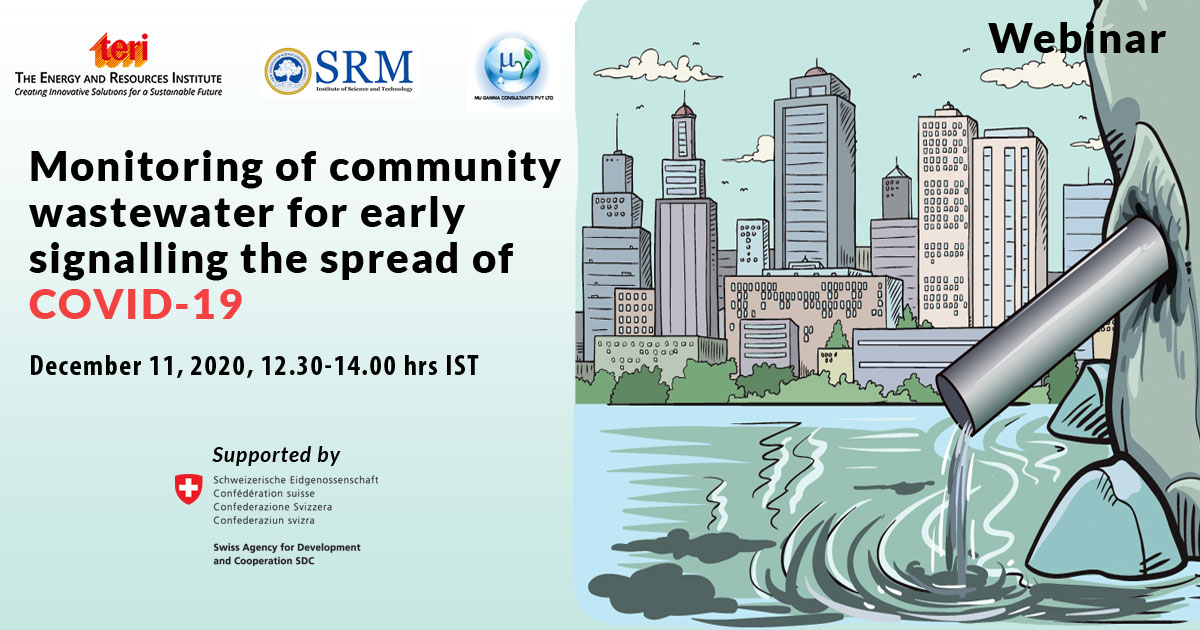 On 11th December 2020, 12:30 hrs - 14:00 hrs
While a high test rate has been recommended for reducing the impact of the pandemic, several research studies have highlighted the importance of Wastewater-based epidemiology (WBE) that has the potential to indicate the concentration of SARS-CoV-2 in human population through wastewater monitoring.
The webinar will be conducted within the ongoing research study titled 'Monitoring of community wastewater for early signalling the spread of COVID-19 in Chennai City' in partnership by a consortium of TERI, SRM Institute of Science & Technology (SRMIST) and Mu Gamma Consultants Pvt Ltd (MGC).
The study aims to fill the gap in the estimation of total community disease spread in the absence of a larger coverage in the testing of the population by using non-invasive and economical alternatives. The main goal of the study is to develop early signalling of the spread of COVID-19 in communities in Chennai, India during partial and lockdown period. The findings of the study have the potential to be replicated in other parts of India and are useful for policy makers and public health practitioners by providing real time scientific assessment of the spread of COVID-19 and inform decision makers to undertake measures and responses accordingly.
The main objective of the webinar is to highlight the importance of monitoring of community wastewater-based epidemiology to detect and track SARS-CoV-2 infection and the related policy implications. The other objectives include:
To discuss the development of WBE for early signalling of spread of COVID-19 in communities
To highlight techniques and approaches for using data effectively to inform decision making
To discuss with Scientists and experts across the globe on their experience with using WBE for tracking SARS-CoV-2 RNA
Suggest policy recommendations for the use of wastewater-based epidemiology in monitoring and mitigating the spread of the pandemic