Mainstreaming City Resilience Strategies
Ms Adishree Panda, Ms Bhavya Bogra
Amaltas Hall, India Habitat Centre, New Delhi
---
TERI is organising a session, on how cities can embed resilience within their urban planning, on September 25 at 'The Resilient Cities We Need' event.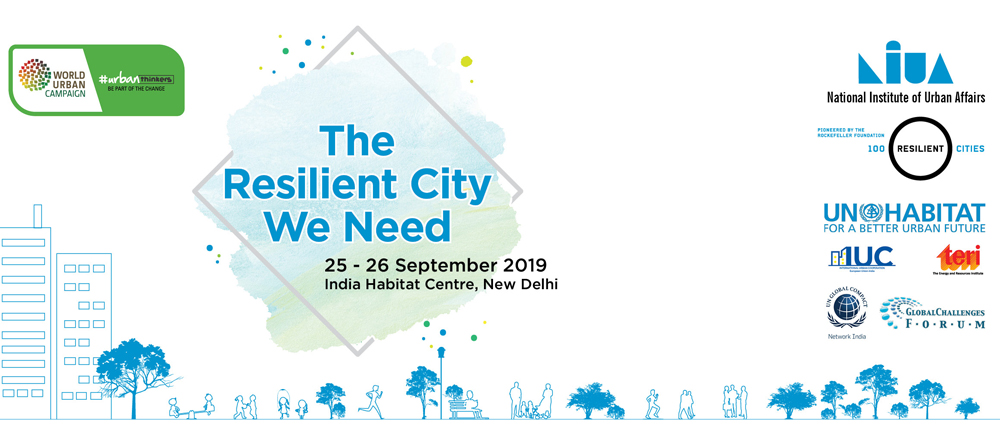 As India urbanizes with increasing risk from acute shocks, it is evident that the city we need is a 'Resilient City'. Building urban resilience will be key for safeguarding urban investments, achieving the Sustainable Development Goals (SDGs), and implementing the New Urban Agenda (NUA). Thus, with an intent to strengthen resilience agendas in Indian cities, the National Institute of Urban Affairs (NIUA) is organizing the Urban Thinkers Campus titled 'The Resilient Cities We Need' on the 25th and 26th September 2019. The Campus aims at developing evidence and policy frameworks for mainstreaming resilience in urban planning, development and management; understanding local capacities and creating platform for strengthening capacities; constructing framework for data-informed decision making; and bringing different stakeholders for developing shared agendas.
As part of the Urban Lab sessions on Day 1 of the Campus, TERI is organizing a session on 'Mainstreaming City Resilience Strategies' on 25th September 2019 from 11.30 am – 01.30 pm at Amaltas Hall, India Habitat Centre. It will focus on how cities can embed resilience within their urban planning and governance processes and maximize the resilience dividend by mainstreaming it within their ongoing urban development activities. The objective is to enable the stakeholders to identify the way forward for improving sectoral and inter-department coordination for effective implementation of strategies for urban resilience building. Thus, the urban lab session aims to provide an interactive and collaborative platform for diverse stakeholders to jointly identify and discuss multi-tiered (governance, financial, social) challenges in cities to adopt and implement effective resilience strategies.
The Campus will facilitate a rich exchange of ideas and will be a step towards finding entry points to strengthen resilience building in Indian cities. It is being organized in association with The Energy and Resources Institute (TERI); UN Habitat - India; Centre of Excellence for Governance, Ethics and Transparency (CEGET) at UN Global Compact Network India; the International Urban Cooperation (IUC)/ India; and the Global Challenges Forum Foundation. The Campus is part of the series of events being organized across the globe as part of the World Urban Campaign (WUC) by UN Habitat in the run-up to the World Urban Forum 10 that will take place in February 2020 in Abu Dhabi. The WUC aims to support the achievement of SDGs in the increasing urban space, especially the Global South.
For further details about the Campus: https://uru.niua.org/events
Register here for the TERI session and the Urban Thinker's Campus