Nitin Desai, Chairman, and Dr Ajay Mathur, Director General, TERI started off the proceedings of the 19th Darbari Seth Memorial Lecture by speaking on what TERI stands for in these challenging times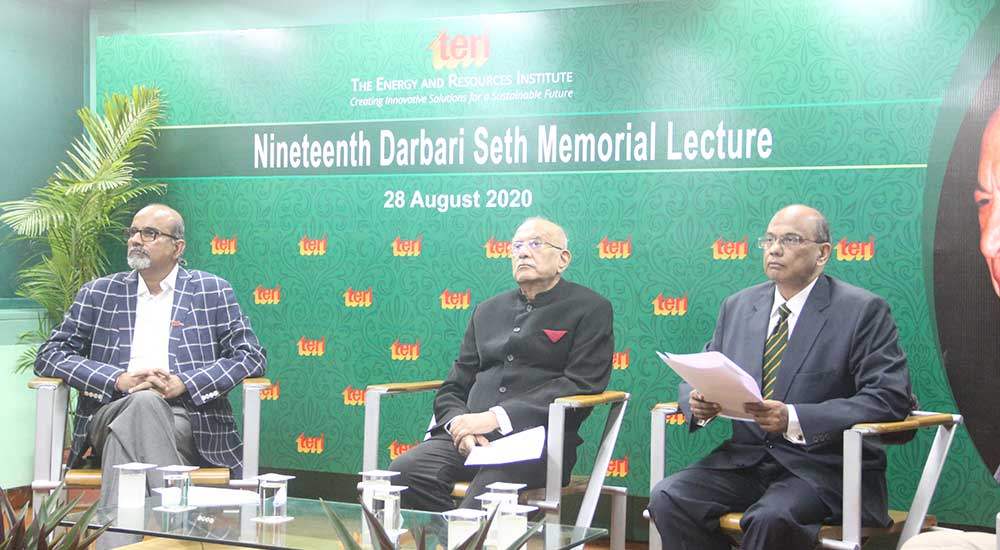 ---
The Chairman's address
Dr Jaishankar, Mr Guterres, Friends, and Colleagues:
It is a pleasure to have all of you with us at the 19th Darbari Seth Memorial Lecture.
Mr Darbari Seth steered and helped create TERI in the years following the first oil shock, and provided the intellectual, institutional, and financial sustenance to build it up as a premier think-tank on issues related with energy, environment, and sustainable development.
I have often commented on how TERI is a think-tank - and much more. It focuses on analyses and polices that move the country and the world towards sustainable development, whether on climate change or on resource efficiency, or in many other areas. But at the same time, TERI also focuses on actual science and technology development. Whether it is developing and then promoting the biomass gasifier; or developing and commercialising a cocktail of bacteria that clean up oil spills on soil – named Oilzapper; or working on technologies that enable the treatment of kinds of waste water found in India or in developing the protocols for creating hydrogen and other biofuels from agricultural products; TERI has, and continues to provide technological options that provide the path to sustainable development. In addition to this policy and technology work, TERI is also active in influencing public opinion towards change. The World Sustainable Development Summit, and the many events, books and publications, as well as the convenings of key stakeholders, including the government, have helped it in pushing the sustainable development agenda, and providing policy makers, board members, and practitioners with the intellectual and technological tools to enable this change.
We need to recall and remember Mr Seth for his support in enabling the creation of this multi-faceted institution, and this Memorial Lecture is a means of thanking him for his visionary leadership. Today, we are delighted that the 19th Darbari Seth Memorial Lecture is being delivered by the United Nations Secretary General on a subject that has been closed to TERI's heart right since its founding "The rise of renewables: Shining a Light on a Sustainable Future". Mr Antonio Guterres has been the Secretary General of the UN since beginning of 2017. He has also been the Prime Minister of Portugal and the UN High Commissioner for Refugees. Mr Guterres brings with him a lifetime commitment to social equity, and a commitment to a dialogue and discussion with all sections of society. During the past years, he has provided global leadership to the transition to carbon-free energy use, including hosting the UN Climate Action Summit last year, at which Prime Minister Modi committed that India would develop 450 GW of renewable energy – a striking goal, considering that at that time, the renewable energy capacity in the country was about 75 GW. We look forward to Mr Guterres views and insights on the transition of renewables – not just on the supply side, but also on the demand side, so that they have positive impact on sustainable development.
I would also inject a note here. In 1998, I was to attend the first international conference on Climate Change which was held in Canada, chaired by Stephen Lewis. I was asked to be a part of it. Mr Lewis told me that it is not just about climate change, but also about climate change and its effect on security. I asked the most eminent person in security analysis, Mr KG Subramanian, to come and the two of us went to the first major international meeting on Climate Change together.
It is a matter of pride that we have today KG Subramanian's son, Dr S Jaishankar, the Indian External Affairs Minister, chairing today's event and delivering the Presidential Address. Dr Jaishankar has had an illustrious career in the Indian Foreign Service serving as an Ambassador in China and the US, before becoming the Foreign Secretary, and now the Foreign Minister. He has been at the forefront of the initiative to develop multilateral fora that is more reflective of the 21st century reality rather than of 20th century politics. We look forward to his presidential address on "Towards Reformed Multilateralism". This is crucial in this day and age when we see multilateral efforts, across a range of subjects, being bogged down by a range of institutional, economic, and political issues.
Finally, may I add that while this has been, and continues to be a trying year with both health and financial crises, we look forward to Dr Jaishankar and Mr Guterres providing us with directions of hope towards which we can move for personal, national, and global betterment.
I thank both of them for speaking today.
---
The Director General's Address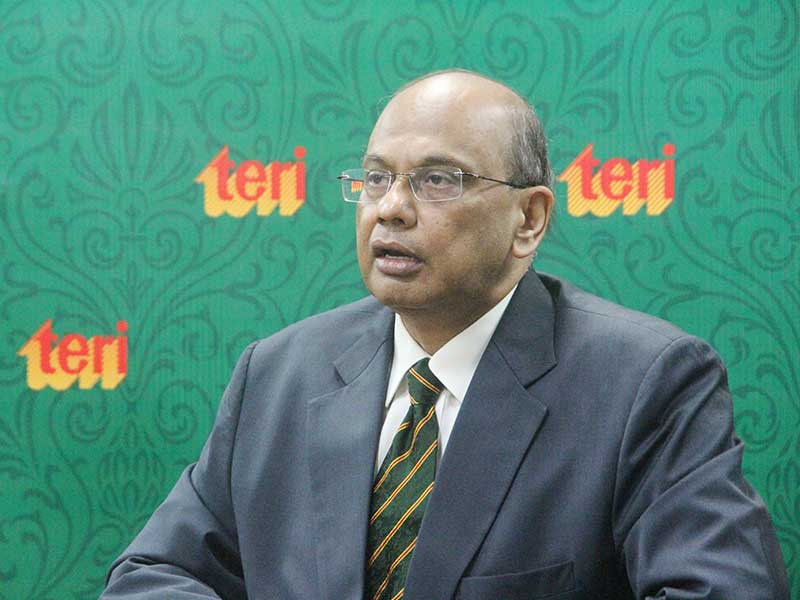 Dr Jaishankar, Mr Guterres, Mr Nitin Desai, Friends, and Colleagues:
I welcome each and every one of you to the 19th Darbari Seth Memorial Lecture. This memorial lecture is organized by TERI every year to commemorate the memory of our founder Mr Darbari Seth. In this centenary of his birth – he was born on 21st August 1921 – we pledge ourselves to his central belief in the efficient use of resources and in self-sufficiency. We again mark our commitment to continue to innovate to find sustainable solutions in our development journey.
I am extremely grateful to Dr S Jaishankar, Minister for External Affairs, Government of India, to chair this event and to deliver the Presidential Address. We are also indebted to Mr Antonio Guterres, Secretary General of the United Nations for delivering the 19th Darbari Seth Memorial Lecture.
We meet in the middle of what is a challenging and trying year. It has upended the established ways of working and dealing with each other at TERI, at other NGOs and corporates – and indeed in the government as well. It has also set a need for new ways to both justify the importance and necessity of what we do, as well as to find new business models to accelerate and upscale the pockets of success that we find today. The economic recovery packages that have been announced by the Government have, very rightly, focused on the urgent needs to accelerate economic growth, job creation, and sustainable livelihoods. The recovery packages have provided credit, and credit guarantees, for investments, especially in the target sectors which contribute to economic growth, job creation, and sustainable livelihoods i.e. – the agricultural and SME sectors.
As we look to the future, we are reinvigorated by the enthusiasm, skills and path-breaking directions forged by our colleagues, and I would like to recognize those colleagues who have, in 2019-20 completed twenty years of service, as well as those who have been recognized for their innovative work last year, through their addition to the TERI Roll of Honour.
Colleagues who have completed 20 years of service TERI
Dr Suneel Pandey
Mr Prahlad Kumar Tewari
Ms Kiran Shivpuri
Ms Subhasree Vijayaraghavan
Colleagues who have been recognized with Roll of Honour
Mr A Rajasekharan Nair
Mr Ramesh Chand Bhatroji
Ms Nazia Naheed Husain
Ms Shweta Singh
Mr Prasoon Singh
Mr Ritesh Kumar Jha
Mr Neshwin Nigel Rodrigues
Mr Balaji Raparthi
Mr Tarun Sharma
Mr K M Girish
Dr Vidya S Batra
Ms Saroj Nair
Ms Kiran Shivpuri
Dr Aparna Tyagi
Mr Will Hall
Mr Varun Prakash Pandey
Ms Garima Vats
Mr Manish Bhaskar Asodekar
Ms S Sreekala
Mr Kapil Muddineni
Mr Nitin Bajpai
Ms Rashmi Murali
Dr Braj Raj Singh
Mr Akash Deep
Ms Megha Behal
Mr Sharif Qamar
I again thank each one of you for your participation, albeit online, in these challenging and trying times, and thank you for your participation.