Invitation of Expression of Interest under National Mission on Himalayan Studies
28 June 2021
Invitation of Expression of Interest (EoI) to undertake Geological Investigations, Plantations and Civil Construction Works of a springshed in a consortia initiative funded by NMHS, GB Pant National Institute of Himalayan Environment and Sustainable Development, Kosi Katarmal, Almora, MoEFCC, New Delhi, led by DAV (PG) college, Dehradun in collaboration with TERI-SAS, New Delhi, TERI, New Delhi and Uttarakhand Jal Sansthan (UJS), Dehradun.
Scope of work:
Preparation of structure geology (dip/strike, dip amount and rock type with geological sequence) on 1:1000 Scale, study of set of joints and fractures on 250 m interval. In case of absence of exposed rocks, provide the thickness of soils (provide track of GPS enable line traverse mapping in shape file format);
Resistivity survey on 500m interval with interpretation report and all profiles of two conjugative observations;
Isotopes survey and analysis report at three or four locations;
Plantation work with 1000 plants per hectare (New plantation should be achieved 3% of total geographical area) and
Construction of Structures for soils moisture conservation and ground water recharge – Contour trenching, Inwardly sloping terraces, Circular ponds, Semi-circular bunds, Soils and Stone bunds Gabion Structures with use of local stone, sand, and soil, bunds, gulley plugs with use of stone (Note: all structures will preferably use local earthen material and avoid the use of cement and concrete structures.)
Location/ Sites: Near Selupani, Tehri, Uttarakhand
The company/firm/ bidder should fulfil the following:
It should have working experience of Himalayan region or Uttarakhand.
It should have at least 3 years IT returns and max. Rs. 25 lakhs annual turnover.
It must have completed at least ten groundwater related projects/ works, out of which atleast one must be in spring or river rejuvenation.
It must have hydro-geologist and other team members having relevant qualifications in groundwater investigations with at least 5 years' experience.
Selection will be on "Technical Capacity and Financial Cost basis" for which last date of submitting quote is 10.7.2021.
Details available at: http://davpgcollege.in/news/RG7MnUrm.pdf
TERI statement on Dr Ajay Mathur's election as Director General, ISA
15 February 2021
We are delighted to announce that Dr Ajay Mathur, Director General, TERI, has been elected as the Director General of the International Solar Alliance (ISA). Dr. Mathur's name was approved and announced today at a special virtual assembly of the ISA. As Government of India's nominee for the position, Dr. Mathur was elected unopposed by the 89-country assembly of the ISA.
The Governing Council of TERI has put a transition plan into place, which includes initiating a search process to identify a new Director General to lead TERI. Also, in order to ensure a seamless transition, Dr. Vibha Dhawan, the senior-most Programme Director in TERI has been identified to take on the responsibility of TERI's leadership as the Interim Director General.
TERI shall miss the leadership and guidance of Dr Mathur and strive to carry forward the energy and climate agenda that he steered to a new level of ambition, both for the institute and the country. "Dr. Mathur's election as Director General, ISA, is a matter of great pride for TERI. We congratulate Dr. Mathur for this recognition and wish him tremendous success in his new role", said Nitin Desai, Chairman, TERI.
TERI and Blue Planet Solutions sign joint development agreement for TEAM technology
23 December 2020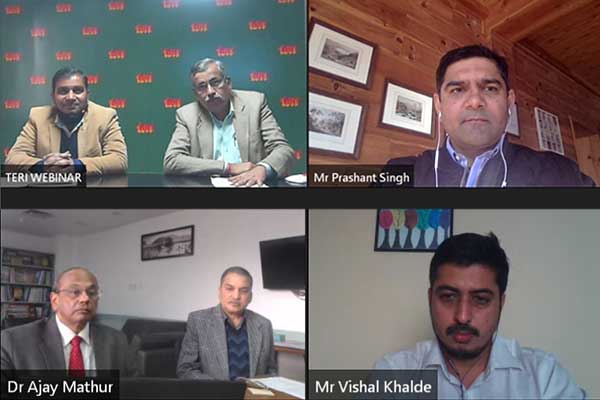 The Energy and Resources Institute (TERI) entered into a joint development agreement on 23rd December with Blue Planet Environmental Solutions India Private Limited.
Blue Planet Environmental Solutions has created an integrated waste management ecosystem and its technologies have been recommended by the Swachh Bharat Mission and recognised under the Solid Waste Management Rules, 2016. TERI has long had experience of waste management with TERI's enhanced acidification and methanation (TEAM) technology. The technology has been successfully tested in the field for different types of organic solid wastes for the generation of useful resources – biogas, electricity and manure.
TERI has provided BPES exclusive rights for further development and usage of the TEAM technology through joint venture, for a period of five years. Under this agreement, the technology would be further developed into a more comprehensive product that would have a competitive edge in the markets. The intellectual property right (IPR) for the product so developed would be jointly owned by BPES and TERI.
TERI launches website for the World Wind Energy Conference 2021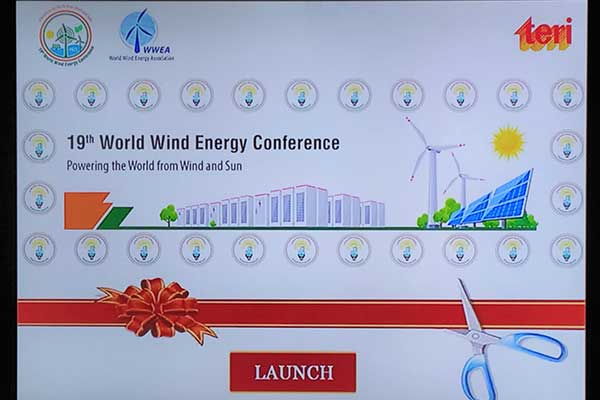 The Energy and Resources Institute (TERI) on 21st December 2020 launched the website for the World Wind Energy Conference 2021, to be held from 24th to 26th November, 2021 in New Delhi. The conference is being organised by World Wind Energy Association and TERI, and is supported by International Solar Alliance (ISA) and International Solar Energy Society (ISES). The theme for this year is 'Powering the World from Wind and Sun'.
Inaugurating the website, Dr Ajay Mathur, Director General, TERI, said, "We're delighted to hold the World Wind Energy Conference 2021. It is a great place to come together and find partners and collaborations in spaces and applications not thought of before."
"This website serves as a place for the first port of call for the conference, and as a place for convergence," he added.
"We look forward to international experts coming forward (through this conference) to achieve the global vision of decarbonisation," Dr Ashvini Kumar, Senior Director, Renewable Energy, TERI added.
The conference will focus on the transition of country's energy system to renewable energy sources with a prime focus on accelerating additions of wind and solar energy to avoid the need for more conventional power. It will also talk about transforming the Indian wind sector and address the challenges that would accompany the unprecedented growth of wind and solar capacity targeted for the nation.
Explore its new website here: wwec2021.org
Tender Notice - WASH Infrastructure Activity
The Energy & Resources Institute (TERI), New Delhi invites quotes for WASH Infrastructure Activity for Schools and rejuvenation of pond for Community in Kusunda, Putki, Jharkhand.
The detailed document can be viewed and downloaded as below:
Interested bidders shall submit their bids manually on or before 27th Oct 2020, addressed to:
The Deputy Manager (Materials)
The Energy and Resources Institute
6C, Darbari Seth Block
IHC Complex, Lodhi Road
New Delhi - 110003
India
Tender Notice - Implementation of approximately 125 numbers of Hybrid Solar Charging Unit for Power Loom in the rural areas of Uttar Pradesh
The Energy and Resources Institute (TERI), New Delhi invites quotes for the weavers identification, co-funding mobilization, supply, installation & maintenance of Solar Hybrid Charging Unit for power looms in UP.
The detailed document can be viewed and downloaded as below:
Interested bidders shall submit their bids manually on or before 17th July 2020, addressed to:
The Deputy Manager (Materials)
The Energy and Resources Institute
6C, Darbari Seth Block
IHC Complex, Lodhi Road
New Delhi - 110003
India
TERI to work from home to combat #COVID2019 pandemic
The Energy and Resources Institute (TERI) is taking measures to safeguard our health and safety during this time when the COVID-19 pandemic continues to evolve. In this unprecedented global crisis, we have instituted Work From Home options from Wednesday, 18th March 2020 till Tuesday, 14th April 2020. During this time, flexible arrangements have been worked out among the staff and their respective managers, including immediate halt to all non-essential travel and managing adequate social distance at work and at home.
Consequently, during this period we are actively discouraging meetings on our premises, and are promoting video and audio interactions.
We continue to monitor the situation, and will update guidance and recommendations as and when appropriate.
TERI Alumni Reunion rescheduled to 15th February 2020
In light of the Delhi elections scheduled for 8th February 2020, the Second TERI ALUMNI REUNION has been rescheduled to 15th February 2020 (Saturday) at 12:30 pm at India Habitat Centre. This will be a contributory luncheon for all members who wish to participate in this gathering. The charge would be Rs.1000/- for an Individual and Rs.1500/- for a couple.
We would appreciate your confirmation/payment by 30th December 2019 so that we could make all the necessary arrangements. Contributions can be deposited in the TERI Alumni Association Bank Account. Details are as below – please mail details of the remittance to track them.
Account name: TERI ALUMNI ASSOCIATION
Account number 001694600001212; YES BANK
IFS code: YESB0000016
Subsequent to online elections in July 2019, the TAA Executive Committee was constituted for a period of three years. The committee has met thrice already and proposed a set of activities to make TAA useful for its members and to achieve the objectives with which it is mandated. We will share the details separately. So far we have registered 182 Ex-TERIers and 108 internal colleagues. With your support we hope these numbers would grow.
For more details, email us at sangeeta.badhwar@teri.res.in and kradhika@teri.res.in
TERI launches nanobiotechnology networking platforms with Deakin University, Department of Biotechnology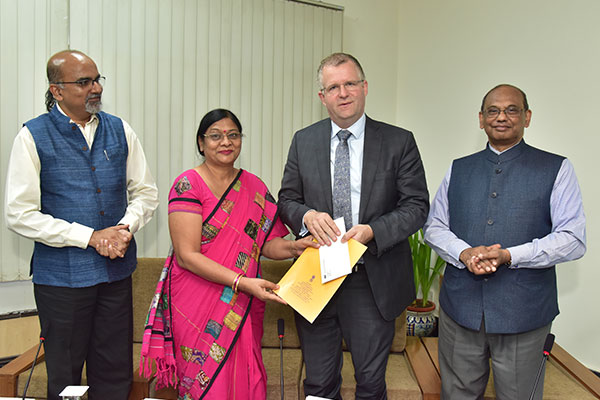 TERI, Deakin University, and the Department of Biotechnology, Ministry of Science and Environment, Govt of India, launched two joint nanobiotechnology networking initiatives – Nanobiotech@DBT and DTD-RNA (DBT-TDNBC-Deakin – Research Network Across continents for learning and innovation), at TERI Gram, Gurugram, Haryana, on September 3, 2019.
The two initiatives aim to create nanotechnology innovation hubs and networking between research institutes, universities, and industries, apart from offering joint facilities and infrastructure for collaborative research. The DTD-RNA will cover the areas of Synthesis of nanomaterials, Food preservation using novel nanofibres, Cost effective natural biodegradable polymer based nanocomposites, Natural food colours, Mycorrhiza, Seed coating technology of microbes and nanofertilisers, and Reclamation technologies.
Launching the Nanobiotech@DBT website, Dr Suchita Ninawe, Adviser, DBT, said, "Our aim is to connect lab to industries to end users". On the occasion, Dr Ajay Mathur, Director General, TERI, said, "Networking and outreach programmes will enable the transfer of knowledge and technology for what will happen in the world."
Professor Iain Martin, President and Vice Chancellor, Deakin University, was also present for the launch. He said, "DTD-RNA was envisioned to nurture innovation in nanobiotechnology. Several labs will be created as country hubs weaving a network of research institutions across continents." Dr Alok Adholeya, Senior Director, Sustainable Agriculture, TERI, added, "The network and institutional structure will re-emphasise TERI-Deakin Nanobiotechnology Research Centre's (TDNBC) willingness to promote a research network in a highly specialised and next-generation science platform".
TERI Alumni Association President elected
We are pleased to announce the election of Rakesh Kacker, Former Senior Fellow, TERI, as President of the TERI Alumni Association, and Raina Singh, Former Fellow, Sustainable Habitats division, TERI, as Secretary, in the recently held Executive Committee Member Elections for 2019-2022. The elections were held successfully through online voting.
Dr Vibha Dhawan, Distinguished Fellow, and Sudheer Katoch, General Manager, Administrative Services, have been nominated as the Vice President and Treasurer from TERI, respectively. Both are also Founder Members of the association.
The final constitution of the executive committee is as follows:
| | |
| --- | --- |
| Patron | Dr Ajay Mathur, Director General, TERI |
| Chairperson | Manu Arora, Director, HR (Ex-officio capacity), TERI |
| President | Rakesh Kacker |
| Vice President | Dr Vibha Dhawan |
| Treasurer | Sudheer Katoch |
| Secretary | Raina Singh |
| Joint Secretary | Sangeeta Badhwar, Senior Manager (Coordination), TERI |
Moving forward we will be planning the roadmap for future activities and fix the date for the second alumni get together.
Dr Ajay Mathur, DG, TERI, joins Global Commission for Urgent Action on Energy Efficiency
Dr Ajay Mathur, Director General, TERI, has joined governments, top business executives and thought leaders from around the world in the International Energy Agency's (IEA) Global Commission for Urgent Action on Energy Efficiency. The Prime Minister of Ireland, His Excellency Leo Varadkar, is the Honorary Chair of the commission.
The Global Commission for Urgent Action on Energy Efficiency is an independent, high-level global commission set up to examine how progress on energy efficiency can be rapidly accelerated through new and stronger policy action. The focus of the commission's panel will be on key policy actions that can be taken by countries across the globe. The members of the commission include present and previous energy and environment ministers from various countries. The commission will produce a concise list of clear, actionable recommendations in 2020.
Dr Mathur is member of the Prime Minister's Council on Climate Change and was the Director General of the Bureau of Energy Efficiency (BEE) in the Government of India from 2006 till February 2016. During this time, the BEE brought energy efficiency into homes, offices, and factories through initiatives such as the star labelling programme for appliances, the Energy Conservation Building Code (ECBC), and the Perform, Achieve and Trade (PAT) programme for energy-intensive industries. Dr Mathur has also been a key Indian climate-change negotiator, and was the Indian spokesperson at the 2015 climate negotiations at Paris. He is a global leader on technological approaches to address climate change and co-chair of the Energy Transitions Commission which will suggest ways for companies and countries to move towards climate-friendly energy futures.
Find out more about the commission and its members here.
TERI and IEA deepen partnership with MoU
The Energy and Resources Institute (TERI) and the International Energy Agency (IEA) signed a Memorandum of Understanding (MoU) on 18th July, 2018 at the TERI headquarters in New Delhi.
The MoU has been signed with the intent of deepening the cooperation among the two organisations in support of global clean energy transitions. Under this agreement, TERI and IEA would work together in the areas of energy efficiency, affordable energy access for all, increased renewable penetration and integration in electricity, sharing India's experiences in R&D in these sectors, and in energy policy priorities with other countries. It also aims for the two organisations to work together to enable energy transition in industries, especially in hard to abate sectors such as cement, iron and steel etc., reduce emission from transport, and explore the role for emerging technologies and alternative fuels such as hydrogen.
On the occasion, Dr Ajay Mathur, Director General, TERI, reiterated the valuable partner that IEA is to the institute.
"We look forward to learning from global experience and documenting what we do so that it is viable and doable for others too," he said, adding that he hopes the partnership would create deliverables that are of use to people around the world.
Expressing his happiness at the partnership, Dr Fatih Birol, Executive Director, IEA, spoke of TERI's "impeccable" reputation internationally due to its comprehensive work and objective analysis.
He added that India, which became an institutional member of the IEA in 2017, is at the centre-stage of the energy scenario in the world.
"I don't know of any other country that set up a 175 GW target (for renewable energy). It would have been considered impossible but now there is already talk of revising this target to a higher number," he added.
Media training on Land Degradation Neutrality by 2030
Background
The world is losing nearly 13 million hectares of forest every year, while persistent degradation of drylands has led to the desertification of over 3.6 billion hectares. In India, TERI's analysis suggests an economic loss of 2.5% of GDP due to land degradation.
This important subject will be widely discussed in the coming months as India will be hosting the 14th session of the Conference of the Parties of the United Nations Convention to Combat Desertification (UNCCD) from 2 to 13 September 2019. This Conference is expected to have participation from over 196 countries drawn from national and regional governments, science and research communities, the private sector, and non-governmental organizations. It is being led by the Ministry of Environment, Forests and Climate Change.
Some of the new and relevant issues that are on the radar of the governments include the interaction between climate and land, optimizing the mix of food, energy and environment demands on land, the rural-urban link, the negative feedback of land degradation on poverty and human health, the tremendous opportunity sustainable value chains may provide, the role of the faith communities and the rapidly growing global movement on land restoration both of which are essential to achieving land degradation neutrality, which is a pivotal Agenda 2030 target.
Media training
In this context, TERI and UNCCD are co-hosting special media training on 'Achieving Land Degradation Neutrality by 2030' on August 1-2, 2019 in New Delhi. The training will equip young journalists with essential background and knowledge about the Conference and the issues mentioned above. It will provide the journalists an opportunity to interact with some of the best subject experts and develop their perspective on the central theme of the conference.
Post-training, the journalists will be expected to publish stories in their respective publications on related issues, and particularly on the Conference's outcomes.
Eligibility
Applicants should preferably be 25-35 years of age. They would need to make the following submissions for the selection committee's consideration:
Two by-lined articles (print, online, radio, TV), at least one of which is related to environment, land, drought, desertification, water or climate change. Articles written in a language other than English should be accompanied by a short summary in English.
A letter from the supervising editor stating their consent to publish the articles produced as an outcome of this training.
Sponsorship
Travel and accommodation will be fully sponsored for all participants of the training.
How to Apply:
Interested journalists may send their submissions to Sumit Bansal at sumit.bansal@teri.res.in latest by July 15th.
---
Mr. Nitin Desai appointed Chairman, TERI Governing Council and Dr. Shailesh Nayak, Chancellor, TERI School of Advanced Studies
TERI announces the appointment of Mr Nitin D. Desai as the Chairman of TERI's Governing Council and of Mr Shailesh Nayak as the Chancellor of TERI School of Advanced Studies, with immediate effect. This follows the resignation of Mr Ashok Chawla from the chairmanship of TERI's Governing Council and the Chancellorship of the TERI School of Advanced Studies.
Mr Nitin Desai is a distinguished economist, and a well-known voice in public policy fora nationally and internationally, especially in the sustainable development sector. He was in the Planning Commission (1973-88) and later served as the Chief Economic Adviser and Secretary, Department of Economic Affairs, in the Ministry of Finance (1988-90). He also served as Senior Economic Adviser for the World Commission on Environment and Development (the Brundtland Commission) where he introduced the concept of sustainable development. He was the Under Secretary General for Economic and Social Affairs in the UN, where his major contributions included the organization of a series of global summits, notably the Rio Earth Summit (1992), the Copenhagen Social Development Summit (1995), the Monterrey Finance and Development Summit (2002) and the Johannesburg Sustainable Development Summit (2002). He oversaw the creation of the Commission on Sustainable Development in the UN, and was the first Under Secretary General for Policy Coordination and Sustainable Development.
Dr Shailesh Nayak is currently a Member of the Governing Council of TERI and the Director of National Institute of Advanced Studies, Bengaluru. He was Secretary, Ministry of Earth Sciences during 2008-2015 and Distinguished Scientist during 2015-2018. In his outstanding career, he has provided leadership for programmes related to climate change, weather services, polar science, ocean science and modelling, ocean survey, resources and technology. Dr. Nayak is recognised for setting up the Tsunami Warning System for the Indian Ocean and several other satellite-based products and services including sea state for coastal zone management.
---