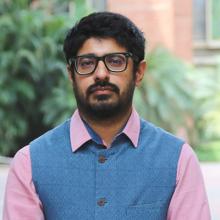 Mr Varun Grover
Area Convenor, Sustainable Services Management
Mr Varun Grover is engaged with the Land Resources Division of TERI as an Associate Fellow. He is also the Area Convenor of the Centre for Forest Management & Governance. A sustainability professional with over 6 years of experience, at Mr Grover's work includes natural resource management, forest certification and other voluntary sustainability standards, carbon finance, value chain mapping, tracking & traceability, stakeholder engagement, and agroforestry.
He is currently working on several carbon finance projects with various partners, scaling up Trees Outside Forest (TOF) in India a USAID project with ICRAF as consortium lead, forest landscape restoration project with GIZ as consortium lead.
Prior to his stint at TERI, Mr Grover worked with the Network for Certification and Conservation of Forests (NCCF).
A Post Graduate Diploma holder in Forestry Management (PGDFM) from the Indian Institute of Forest Management, Bhopal, with a Bachelor of Engineering (Mechanical Engineering), he is also a member of BIS's Biodiversity Sectional Committee, SSD 20.
Email: Varun.Grover@teri.res.in