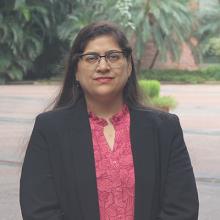 Ms Gauri Mathur
Associate Director, Human Resources
Ms Gauri Mathur is heading the Human Resource Division at TERI. With over 19 years of diverse experience in strategic HR, workforce planning, talent acquisition, salary planning, policy formulation & implementation, training, talent development and strategic initiatives into organizational development space, she is a result oriented and a transformation strategist. Her proficiency in developing strategies & driving initiative in Talent Management with a focus on retention practices & people engagement including building organization capability has been the key focus areas.
She has been with TERI since 2022 and had contributed to overall development of TERI covering areas such as policies, projects, salary structures and market analysis thereby bring operational and strategic efficiency. Her contributions involve extensively working in streamlining processes and systems that help in building overall capacity and operational efficiencies. She has focused on effective stakeholder management, developed high performing teams, identifying high potential leaders & colleagues, and setting up robust & effective performance management systems. Furthermore, she has spearheaded various initiatives related to employee life cycle, engagement and development, initiatives for leadership, mid-level and below with an agenda of 'Total People Development' plan.
She has contributed to various global/ pan India level initiatives with significant work in the areas of Talent Management, Manpower Planning and Budgeting, Personality analysis in her previous assignments. She is a certified HOGAN coach with expertise in assessing personalities & human psychology.
As a people strategist and a situational leader Ms Gauri is efficient in evolving a collaborative and inclusive culture, focus on motivating employees and guiding them towards the achievement of organizational objectives along with proven managerial acumen and abilities to withstand work pressures, deliver assignments within specified time frame without compromising on quality benchmarks, possessing valuable insights, keen analysis, and team approach to implement best practices used in organizing and implementing business-impacting changes together with crafted learning and development programs.
Email: gauri.mathur@teri.res.in