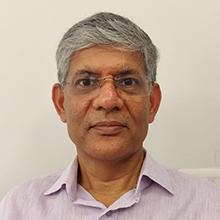 Dr Asha Ram Sihag
Distinguished Fellow, Resource Efficiency & Governance
Asha Ram Sihag is a public policy professional with close to four decades of experience in policy making, execution, research and teaching and is presently engaged with The Energy and Resources Institute (TERI) as a Distinguished Fellow. His was previously engaged with the organization as the Director of the Regulatory Studies and Governance Division (2001-04) providing research and advisory services to public and private sector entities and international organizations in energy and infrastructure sectors and regulation.
As a career civil servant from the Indian Administrative Service, his experience spans higher echelons of government at the central and state levels in India with stints in non-profit and multilateral institutions. He believes that a rigorous analytical approach applied to policy questions can potentially expand the solution space and provide win-win outcomes for stakeholders. His sector experience includes energy, resources, infrastructure, economy, finance, industry and defence. He has worked both in India and abroad.
As Secretary, Department of Heavy Industry (DHI), Government of India (2017-19), he conceived and launched the Faster Adoption and Manufacturing of Electric and Hybrid Vehicle Phase II (FAME-II) scheme for promotion of electric mobility in public and shared mobility space with advanced chemistry battery technologies.
In the Cabinet Secretariat as Secretary (Coordination) (2016-17) and Joint Secretary (2004-2009), he was involved with governance at the apex level in Government of India. This included processes of cabinet decision making on diverse issues, coordination and conflict resolution among contending departments and agencies and integrity-watch over senior functionaries of public sector and the government
As Senior Adviser to the Executive Director at the Asian Development Bank (2009-12) participated in the Board- level corporate governance activities of the ADB through the office of the Executive Director representing India, Afghanistan, Bangladesh, Bhutan, Lao PDR, Tajikistan and Turkmenistan.
He has a Masters and Ph.D in Economics from Cornell University, Ithaca, New York, USA.