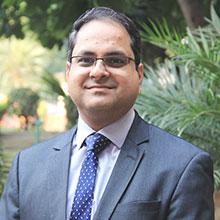 Mr Souvik Bhattacharjya
Associate Director, Resource Efficiency & Governance
Souvik Bhattacharjya has more than 15 years' experience in energy and environmental research and management consulting. He has undertaken and led various consultancy and research assignments for ministries, bilateral, and multilateral organisations, and multinational corporations. His areas of work include resource efficiency and circular economy, developing policies and strategies along product and service value chains for promoting 6Rs, industrial ecology, material demand/supply assessments, material flow analysis, life cycle analysis, life cycle cost analysis, impact assessments of industrial/infrastructure projects, price build up for environmental goods and services, trade in environment and resources, etc.
In 2011, he was awarded the Young Global Economic Fellowship (GES) in by the Kiel Institute of Global Economy, Germany. He was also selected as a fellow and contributing lead author by United Nations Environment Programme (UNEP) for Global Environment Outlook (GEO 4) as well as the GEO 6 report prepared for the Asia Pacific region.
He has also led many capacity building activities for corporates, academia and civil society organisations. He holds a Masters Degree in Economics (with specialisation in World Economy) from School of International Studies, Jawaharlal Nehru University, New Delhi.
Before joining TERI, he worked with Accenture Management Consulting, for their industry strategy group. He was also a project fellow at the Centre for Development and Environment Policy, Indian Institute of Management (IIM) Calcutta.