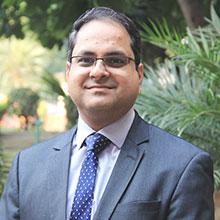 Mr Souvik Bhattacharjya
Associate Director, Resource Efficiency & Governance
Mr Souvik Bhattacharjya is engaged with the Resource Efficiency and Governance Division of The Energy and Resources Institute (TERI) as its Associate Director. Besides his capacity as an Associate Director, Mr Bhattacharjya is also a visiting faculty at the TERI School of Advanced Studies, a Member of the BIS committee on environment management, and the co-ordinator of the South Asia Regional Centre of Excellence (RCoE), for Sustainable Consumption and Production (SCP) of UNEP.
With over 18 years of rich experience in the field of resources, energy and environmental research and consulting, Mr Bhattarcharjya's area of research includes resource efficiency and circular economy, greening of infrastructure, life cycle assessments, economics of environmental goods and services, andtrade in environment and resources.
An expert of data analytics and economic models that help to capture energy-resource and economy interactions, he is the recipient of the Young Global Economic Fellowship (2011) by the Kiel Institute of Global Economy, Kiel, Germany.
A post graduate in Economics (with specialization in World Economy) from the School of International Studies, Jawaharlal Nehru University, New Delhi, Mr Bhattacharjya is pursuing his doctoral from the Indian Institute of Management (IIM), Lucknow.