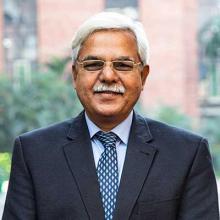 Mr R R Rashmi
Distinguished Fellow and Programme Director, Earth Science and Climate Change
Shri Rajani Ranjan Rashmi is a former member of Indian Administrative Service (1983) batch. He was India's principal negotiator for climate change negotiations under the UN Framework Convention on Climate Change for several years and has been part of climate change policy-making in India in the run-up to and after the Paris Agreement. As Special Secretary in the Ministry of Environment, Forest & Climate Change in the Government of India, he has been closely associated with formulation and implementation of policies relating to Climate Change, Pollution, Montreal Protocol on ODS, and Environmental Clearances, besides being the Project Director of Green India Mission.
Besides his work in the field of environment, Shri Rashmi has served as a trade negotiator and public finance administrator. He was Adviser in India's Mission to European Union in Brussels (2001-2005). Later, as Additional Secretary in the Ministry of Commerce & Industry (2014), he oversaw state trading and plantation commodity exports. He was Finance Secretary of the state government of Manipur for almost 8 years in various stints, and ended his term as state's Chief Secretary in 2018. In 2008, he was awarded the Prime Minister's Award for Excellence in Public Administration for his contribution to management of finances in the state.
Currently, he is associated with the Centre for Global Environmental Research in TERI where he works on areas relating to climate change, mitigation and adaptation challenges, carbon markets, and related environmental policies and actions. He serves on the Sub Committee of the Ministry of Finance on Climate Finance and is a Member of the Technical Advisory Body of the International Civil Aviation Organisation (ICAO) for recommending use of emission units for CORSIA. He advises National Agricultural Bank for Agriculture and Rural Development (NABARD) on international climate business and co-chairs the 'Biofuels Standard Development Group' of the Network for Certification and Conservation of Forests (NCCF) in India.
Shri Rashmi is alumnus of Patna University and a management graduate from the Free University (Vriet Universitiet) of Brussels.