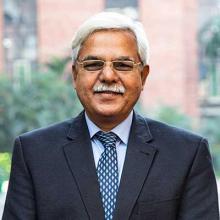 Mr R R Rashmi
Distinguished Fellow, Earth Science and Climate Change
Shri Rajani Ranjan Rashmi is former Chief Secretary of the Government of Manipur and belongs to the Indian Administrative Service (Manipur-1983). During 35 years of his distinguished career in public service, he has dealt with policy making in various fields in the government at the Centre, State and abroad.
Shri Rashmi has wide experience in the area of environmental planning and management. He held the position of Special Secretary in the Ministry of Environment, Forest & Climate Change from 2016-17 and was also its Joint Secretary from 2008-2013. In these roles, he was India's principal negotiator under the UN Framework Convention on Climate Change, besides supervising other environmental policies in the field of pollution and environmental clearances.
His other areas of expertise are international trade and public finance. He was Adviser in India's Mission to European Union in Brussels from 2001 to 2005, and later Additional Secretary in the Ministry of Commerce & Industry (2014) where he oversaw state trading and plantation commodity exports.
He was Finance Secretary of the state government of Manipur for almost 8 years in various stints. In 2008, he was awarded the Prime Minister's Award for Excellence in Public Administration for his contribution to management of finances in the state.
Shri Rashmi holds a graduate degree in Economics from Patna University and is MBA from the Free University (Vriet Universitiet) of Brussels. He is married and has two children.