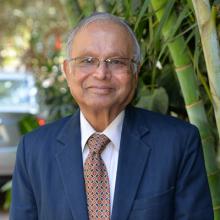 Mr Pronab Dasgupta
Distinguished Fellow, TERI-SRC
Mr Dasgupta, an alumnus of Delhi University serves as Distinguished Fellow and Director and has been leading TERI's Southern Regional Centre in Bengaluru, since 2005.

Prior to joining TERI, Mr Dasgupta was with the Indian Administrative Service (IAS) to which he was appointed to in 1963; where he held senior positions both the State of Maharashtra and the Government of India. During his IAS tenure in Maharashtra he served as Secretary to the Governor, Secretary to the Chief Minister, Industries Commissioner, Secretary (Transport), Home Department and Secretary (Industries). Amongst the positions he held with the Government of India included Deputy Secretary, Ministry of Heavy Industries; Joint Secretary, Ministry of Health & Family Welfare; Additional Secretary, Ministry of Health & Family Welfare; Education Secretary, Ministry of HRD; Secretary, Ministry of Rural Development; and Chairman, Food Corporation of India. In addition, he was the first Director General of National AIDS Control Organisation (NACO) from its establishment till 1995. He was also deputed to the World Bank from 1990-92 and worked as Health Management Adviser to the Govt. of Uganda, East Africa.

Mr Dasgupta retired from the IAS in 2000 and was appointed member of Telecom Disputes Settlement and Appellate Tribunal (TDSAT) from 2000-2003.

He is Chairman of the Board of Apprenticeship Training, Southern Region in an honorary capacity, and Member, Board of Directors of Ed.CIL, a public sector educational consultancy undertaking of the Ministry of Human Resources Development, Government of India.

Mr Dasgupta has trained in Public Administration in Administrative Staff College, Hyderabad and Indian Institute of Management, Kolkata.