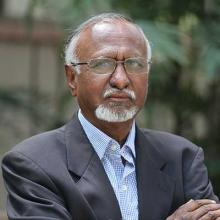 Dr Prodipto Ghosh
Distinguished Fellow, Earth Science and Climate Change
Prodipto Ghosh is involved in research and teaching at the interface of science, economics, philosophy, and public policy. Currently, he is Distinguished Fellow at TERI. He is concurrently member of the Scientific Advisory Council of the Cabinet, and Governing Council of the Indian Council of Social Science Research. He has earlier been member of the National Security Advisory Board, PMs Council on Climate Change, G 20 Advisory Group of the Ministry of Finance, and the CAGs Audit Advisory Committee. He is Adjunct Faculty at the Carnegie-Mellon University, Pittsburgh (where he lectures on Indian macroeconomic policy and public finance), TERI University (where he teaches a post-graduate course on Normative Ethics), and Visiting Fellow at the Smith College, Oxford (with whom he is engaged in collaborative policy research).
He was a member of the IAS from 1969 to 2007, when he retired as Secretary, Ministry of Environment and Forests. He has also held the positions of Economic Advisor and Additional Secretary to the PM, Additional Secretary at the DEA, and Senior Environment Specialist at the Asian Development Bank, Manila. He was a member of India's negotiating team at the UNFCCC climate change negotiations from 2001 to 2012. He is the author of a number of peer reviewed research papers, and several newspaper articles.
He has a Ph.D and M.Phil in Economics and Policy Analysis from the Carnegie-Mellon University, Pittsburgh, and a B.Tech. in Chemical Engineering from IIT Delhi, and has received Alumni Achievement Awards from both institutions. He is also the recipient of the BP Pal Centenary Memorial Award.
Email: prodipto@teri.res.in