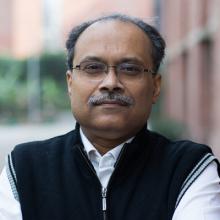 Dr P K Bhattacharya
Associate Director, Knowledge Resource Centre
Dr Bhattacharya is Fellow & Head at Knowledge Management Division, TERI (The Energy and Resources Institute), New Delhi. As Librarian, he supervises and manages library procurement, management and services in TERI. He has been engaged as knowledge support in several sponsored projects from Indian government ministries such as Ministry of Environment, forests and climate change; Department of Science and Technology etc, and other international organizations including IMF, World Bank, International Transport forum, Asian development Bank etc. Dr Bhattacharya also functions as Coordinator and Head of Environmental Information System on Renewable Energy and Climate Change in TERI which prepares several subject specific reports and undertakes several implementation projects on behalf of Ministry of Environment, Forests, and Climate Change, Government of India.
Dr Bhattacharya has years of expertise in conceptualizing and developing electronic value based knowledge services. He specializes in project planning and implementation; information processing, organizing and analysis; editorial activities and information service innovation. His recent area of work is in enterprise knowledge and research data management. He is editor of TERI Information Digest on Energy and Environment (TIDEE), Electronic Newsletter on Renewable Energy & Environment (eNREE) and World digital Libraries: An International Journal, a leading library science journal published from India.
He published several research papers, book chapters, and bibliographies. He has also organized several international conferences on digital libraries, and participated/presented in several conferences and workshops. Dr Bhattacharya is a regular speaker in many conferences and workshops. He is also associated with UGC and IGNOU for planning and development of course modules.