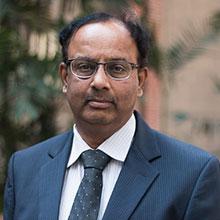 Mr N S Prasad
Senior Fellow, Electricity and Renewables Group
Mr N S Prasad is a renewable energy professional with about 30 years of experience. Having obtained M. Tech from IIT Kanpur, he has been working in renewable energy sector since 1985. He has contributed significantly in resource assessment, establishing wind energy centre and consultancy roles in TERI and CWET (currently NIWE). He has been instrumental in commencing 1st Wind Turbine Type Certification System (TAPS-2000), in association with RISO National Laboratory, Denmark. He also led in instituting QMS (ISO 9001 and IMS) in CWE, Reliance Industries Ltd. (RIL) and Lanco Solar Energy Pvt. Ltd. (LSEPL).
Since the inception of the solar mission, he has been actively involved in solar businesses: strategising and incorporating solar business models in manufacturing line, mega scale project planning and implementation. In his role as a top management professional, he has been overseeing profit and loss for solar corporate business entity and possesses in depth techno-commercial knowledge of the renewable energy domain.
Mr Prasad has been Intensely involved in applied R&D technology analysis; manufacturing, quality, EPC, and project management consultancy roles in the industry. Major projects include development of solar parabolic trough concentrator, techno-commercial evaluation of establishing poly silicon manufacturing plant, establishing SPV module assembly line, design and implementation of ground mounted as well as rooftop solar PV power plants. He is deft in overseeing project activities from conceptualisation to execution stage, including technical specifications, stage inspections, progress monitoring, site management and manpower planning. His valuable contributions include capital expenditure management, waste reductions, cost control and P&L oversight.
Email: ns.prasad@teri.res.in