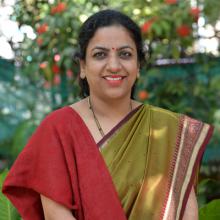 Ms Minni Sastry
Associate Director, Sustainable Buildings
Minni Sastry, B. Arch., Masters (Environment & Energy Studies, AA, School of Architecture, London), architect with specialisation in development of passive and low energy design strategies to obtain sustainable habitats. She has been working with TERI for 10 years.
She has been leading and coordinating Building Science Research and Policy Activities for TERI in South India. Some of her key projects as team leader include : High Performance Commercial Buildings in India project, which was carried out under Asia Pacific Partnership funded by US DoS from 2007-2010, "Development of Environmental Building Regulations and Guidelines for Bangalore city" which was supported by REEEP (Renewable Energy Energy Efficiency Partnership). She has provided green building consultancy and certification for both buildings in private sectors and Government. Some of them include: ITC Chennai Factory, ITC Pune Factory, Fortis Hospitals, Head Quarters of Power Grid Corporation of India Limited. etc. She has also been working with farmers and has provided a green home solution to sericulture farmers in South India to maintain comfortable conditions for silkworm rearing. She has recently also started working in the sector of Low cost climate resilient housing and Green Affordable housing, where she is working with IFC and HUDCO for residential projects in Nepal, Bangladesh and India.
She also coordinates GRIHA activities in South India.