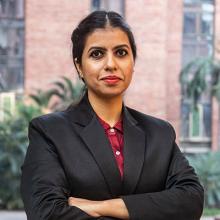 Ms Megha Kumar
Associate Fellow, Centre for Sustainable Mobility
Megha Kumar works in policy research at the Centre for Sustainable Mobility in Transport & Urban Governance Division at TERI. She has over six years of experience working on various mobility related policy issues in the developing world context. Her expertise revolves around policy on clean vehicle technology, transport equity, public transport and non-motorised transport.
At TERI, her work involves close association with city governments, national and sub-national level line ministries and departments, international agencies, donor organizations, philanthropies, research institutes and networks. As part of these engagements, she has been involved in consulting assignments, policy research and advisory, and capacity building and outreach on sustainable mobility issues.
She is deeply committed towards making a positive transformation in the society and environment by way of enabling action and discourse in the domain of sustainable mobility. By academic training she is a post graduate in Transport Planning from the School of Planning and Architecture, New Delhi and a Bachelor's in Urban and Regional Planning from Guru Nanak Dev University, Amritsar. Currently, she is undertaking her PhD studies from the School of Urban Planning, McGill University, Montreal. Her PhD research focusses on Equity in Public Transport in the Global South.