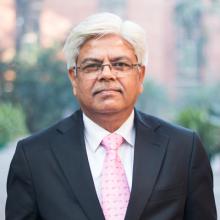 Mr A K Saxena
Senior Director, Electricity & Fuels
Mr A K Saxena, Senior Fellow and Senior Director, Electricity and Fuels Division in TERI, has over 37 years of experience in the power sector in India. During the course of his career, he has worked with the Central Electricity Authority (CEA), Ministry of Power (MoP) and Central Electricity Regulatory Commission (CERC). He retired as Chief Engineer, CEA in 2016 and held important portfolios such as Chief (Engineering), CERC (2013-16), Director (Operation Monitoring) and Director (Transmission) in MoP (2005 to 2012).
At TERI, his profile includes managing the work on energy transitions in the Indian power sector to develop a roadmap for low-carbon pathways. This includes work on demand forecasting, studying economic feasibility of supply side options and technical challenges of grid integration of renewables. He also leads the work on power sector policy, reforms and regulations, demand side management action plans, smart grid, etc.
Mr Saxena has rich regulatory experience in tariff determination for Inter State Generating stations (Conventional and Renewable) and Inter-State Transmission Systems (ISTS), Point-of-Connection charges, IEGC, Deviation Settlement Mechanism, Open Access, Connectivity, Ancillary Services, regulatory approval for solar parks, power market, etc. He also headed a task force to provide inputs to the draft regulations for transmission planning.
Mr Saxena holds a master's degree in Electrical Engineering from the University of Roorkee (now IIT, Roorkee) and MBA in Operations Management from Indira Gandhi National Open University. He is also a Fellow of Institution of Engineers (India) and has travelled widely.