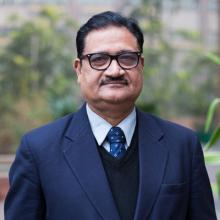 Dr Jitendra Vir Sharma
Senior Director, Land Resources
Dr JV Sharma is engaged with the Land Resources Division of The Energy and Resources Institute (TERI) as its Senior Director.
Starting his career with the Indian Forest Services in 1983, Dr Sharma has 45 years of experience working on multiple policy assignments in relation to sustainable development of forests, biodiversity and wildlife conservation, mitigating climate change and poverty alleviation of forest fringe villages.
Associated with TERI since 2011, Dr Sharma has led several projects on development of climate financing models, the economic valuation of the forest ecosystem, change in forest governance, combating land degradation, and the enhancement of the livelihoods of forest communities.
An expert in global forest policy and international negotiations, Dr Sharma has been a negotiator on behalf of the Government of India to the United Nations under the United Nations Forum on Forests process.
Dr Sharma holds a doctorate in economic valuation of forest ecosystems.
Email: jv.sharma@teri.res.in