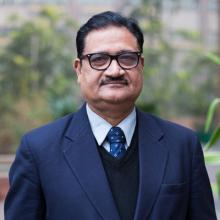 Dr Jitendra Vir Sharma
Senior Director, Land Resources
A serving Indian Forest Officer, Dr J V Sharma has nearly 34 years' experience of overall coordination and management of projects and activities in the forestry sector.
He has recently conducted 2-month long Mid-Career Training Programme for senior Indian Forest Service Officers covering various aspects of many mainstream and cross-cutting issues of forestry. Earlier he has also worked as DIG (Forest Policy and Forest International Cooperation) as link officer along with his main assignment as DIG-Research and training in the Ministry of Environment, Forests & Climate Change and dealt with various issues of research and training. He has also worked on various projects related to Economic Valuation of Forest Ecosystem, Change in Forest Governance, Carbon Financing and enhancing livelihoods of forest communities.
Presently on deputation to TERI, he is involved in guiding the research and development work in the Forestry & Biodiversity Area, which consists of a multidisciplinary professional team of researchers. Also involved in monitoring research, consultancy and extension activities. Other responsibilities include strategic development, project formulation, raising project funding, project implementation and monitoring, institutional and capacity building, networking and negotiating with Government representatives and funding agencies. He is faculty also in the Natural resource Management department of TERI University and guiding 5 PhD students on Forest governance, Climate Change and Natural Resource Economics.
Dr J V Sharma is fluent in both English and Hindi.