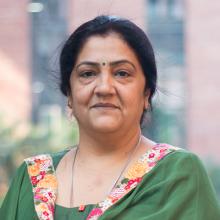 Ms Anupama Jauhry
Associate Director, TERI Publications
Ms Anupama Jauhry has been engaged with TERI Publications Division of The Energy and Resources Institute (TERI) as its Associate Director. With over three decades of experience in the field of publication, Ms Jauhry has been instrumental in garnering, developing, and disseminating TERI's research, thereby bolstering TERI's outreach activities.
Overseeing the functioning of TERI's publishing arm, she has successfully captured a position for the organisation in the market, thereby enhancing the visibility of TERI's publishing and research activities. Adept at driving business growth through marketing and customer analytics, Ms Jauhry specializes in planning, monitoring, and scaling knowledge-based products, publications, and services.'
Prior to her stint at TERI, she has served with major publishing houses in the capacities of General Manager and Publishing Manager, and has been recognized amongst the top 13 women in Publishing by Frontlist magazine (2022).
Email: anupama.jauhry@teri.res.in