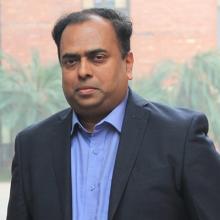 Dr Amit Kumar Thakur
Associate Director, Social Transformation and CSR
Dr Amit Kumar Thakur has been associated with The Energy and Resources Institute since 2006. He is currently engaged with the organisation as the Associate Director of the Social Transformation and CSR division at TERI. A Ph.D. in Sustainability Management, Dr Thakur is a CSR, Business Sustainability and Sustainable Development expert. An Engineering Graduate with a background in Management, Dr Thakur also holds Masters degree in Social Work, Intellectual Property Rights Law, Environment and Sustainable Development.
A development and research professional with over 20 years of experience, Dr Amit Kumar Thakur has worked directly in more than 30 CSR and energy programs of diverse natures and themes as a Project Investigator. During this time, he worked closely working with Public Sector organisations, the government, foundations, global institutions, and private sector companies to provide sustainability solutions to achieve different SDGs.
He has established Centre of Excellence on CSR, Sustainability, SDGs, ESG, Climate and Environment with Indian Chambers of Commerce and chairs CCI – TERI corporate CSR and Sustainability program. Furthermore, he has authored three books and over 25 publications.
Dr Amit Kumar Thakur is a recipient of several awards recognising his contribution towards the CSR, Education, Environment, Sustainability and Sustainable Development field.
Email: akthakur@teri.res.in