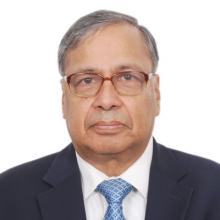 Mr Ajay Shankar
Distinguished Fellow, Director-General's Office
Ajay Shankar has had rich and varied experience in public service for over forty years, primarily in the fields of industry, the power sector and urban development.
He was a member of the premier Indian Administrative Service which he joined in 1973 and retired as Secretary, Department of Industrial Policy and Promotion in the Government of India in December, 2009. He played a crucial role in putting together the stimulus packages at the time of the global economic crisis of 2008 which enabled the Indian economy to recover in a short time and again grow at over 8%. The plan for the ambitious Delhi-Mumbai Industrial Corridor Project was developed under his stewardship. The FDI policy was further liberalized and rationalized. He was the Chairman of the National Productivity Council and of the Quality Council of India and gave greater momentum to their activities. He initiated the setting up of Invest India.
He served for a three year term, November 2011-2014, as Member Secretary of the National Manufacturing Competitiveness Council (NMCC), an advisory body comprising leading Captains of Industry, key Secretaries of Government and eminent Academics. Some of the major recommendations of NMCC have been taken up for implementation by the Government including the National Skill Mission, Facilitating Start-ups, Reform of Labour Laws and reducing the Regulatory burden on enterprises. Sector specific recommendations for breakthroughs in manufacturing in Electronics and IT Hardware, Defence Manufacturing, Civilian Aircraft, Shipbuilding, Electric Vehicles, Steel and Textiles were evolved.
As Joint Secretary and then Additional Secretary in the Ministry of Power he played a key role in enactment of the Electricity Act, 2003, and Rules and policies under it. This created a new liberal framework for the development of the power sector and was one of the major pieces of reform legislation at that time. He was also instrumental in promoting private sector participation in the Power Sector including the Ultra Mega Power Projects. He played a crucial role in the conceptualization and the launch of the national program for completing rural electrification which was launched in 2005 and under which over 1, 00,000 villages have been electrified.
As CEO, Greater NOIDA industrial Development Authority, he was responsible for the development of one of the most attractive Industrial townships and attracting considerable FDI to it. He was Secretary to the Lt. Governor of Delhi for over 5 years, and has also been Commissioner, Kanpur Division and Chairman of the Kanpur Development Authority and was closely involved with issues of urban planning, management and infrastructure development in these metros.
Before serving as Secretary (DIPP), he was Principal Adviser in the Planning Commission looking after Environment and Forests, Water and Sanitation as well as provision of Rural Infrastructure and contributed to the preparation of the Eleventh Five Year Plan in these areas.
He has been a public policy scholar at the Woodrow Wilson Centre in Washington D.C. USA. His articles on economic policy issues have been appearing in the national papers and he has also been addressing seminars and conferences on these issues.
He has served on the Boards of major public sector companies such as IDBI, EXIM Bank, NTPC, NHPC, PFC and REC and has also served as an Independent Director on the Boards of HAL and Tata Global Beverages. He is presently serving as a non-executive Independent Director on the Boards of L&T and Invest India. He is also a Senior Adviser at IRADE.
He has been a member of the Committee on Reform of Public Sector Undertakings, Electricity Distribution, Resources for the Power Sector for the 10th Plan, restructuring of HAL. He was closely associated with the design of the Jawaharlal Nehru National Solar Mission at the time of its launch.
He has recently served as the Chairman of (a) PPP Review Committee of the Railways and (b) Expert Committee set up by Government for Replacing Multiple Prior Permissions with a Regulatory Mechanism for improving Ease of Doing Business.
He has a Masters in Political Science from Allahabad University and a Masters in Economics from Georgetown University, Washington D.C.