Youth commit to promote 'Sustainable Lifestyle' during the Youth Climate Conclave 2023
---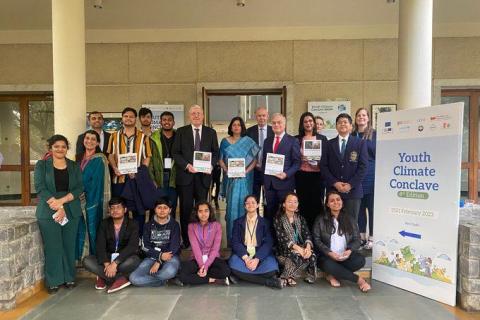 New Delhi, February 21, 2023: Youth from across the country joined together for 4th Edition of Youth Climate Conclave (2022-23) to discuss and deliberate on the most pressing issues related to climate action. The 'Youth Pledge', which is being drafted as part of the Conclave will be presented at the World Sustainable Development Summit 2023 (22-24 February 2023).
The fourth edition of the YCC, which coincides with India taking up the role of G20 presidency, was interspersed with capacity-building sessions, group discussions, technical sessions on climate action and role of youth. A debate competition was organized along with understanding youth priorities and actions for development of 'Youth Pledge' in a participatory manner. The participating youth proved to be very committed towards the cause of sustainable development. Best entries of YCC photography competition which was conducted online were showcased in Youth Climate Conclave Photography Exhibition organised at Italian Cultural Centre, New Delhi.
The YCC was led by the Delegation of the European Union to India, United Nations Children's Fund (UNICEF) India, The Energy and Resources Institute (TERI), Deutsche Gesellschaft für Internationale Zusammenarbeit GmbH (GIZ), Council on Energy, Environment and Water (CEEW), and YuWaah with the Ministry of Environment Forest and Climate Change (MoEFCC) as Nodal Ministry.
Speaking on the occasion, HE Mr Ugo Astuto, EU Ambassador to India said "Youth is going to be the most affected by climate change. We have to act quickly and together."
During his address, HE Mr Vincenzo de Luca, Ambassador of Italy to India said, "There is a sensitive relationship between youth and climate change. No section of society apart from the youth can act better to improve the environment."
In her opening remarks at the event, Dr Vibha Dhawan, DG, TERI said, "World is looking towards India, as it takes over the G20 presidency. Mission LiFE aims at creating behavioural changes across all sections of the society."
The Conclave also included a study tour to TERI gram – a barren and desolate land converted into a sustainable habitat by TERI, which now houses state-of-the-art facilities for developing green technologies, along with a residency called RETREAT (Resource-Efficient TERI Retreat for Environmental Awareness and Training). Along with a visit to International Solar Alliance and National Institute of Solar Energy (NISE campus) in Gurugram.
The winners of debate and photography competition will be announced in the Youth Plenary at the World Sustainable Development Summit 2023.
About TERI
The Energy and Resources Institute (TERI), based in India, is an independent, multi- dimensional research organization with capabilities in policy research, technology development, and implementation. An innovator and agent of change in the energy, environment, climate change and sustainability space, TERI has pioneered conversations and action in these areas for nearly five decades. Headquartered in New Delhi, it has centres in six Indian cities, and is supported by a multi-disciplinary team of scientists, sociologists, economists, engineers, administrative professional and state-of-the-art infrastructure.
About the European Union (EU)
The EU has the world's largest economy and its third largest population, after China and India. Though richly diverse, the countries that make up the EU (its 'Member States') are all committed to the same basic values: peace, democracy, the rule of law and respect for human rights. They have set up common institutions so that decisions on matters of joint interest can be made democratically at the European level. By creating a frontier-free single market and a single currency (the euro) which has been adopted by 19 Member States, the EU has given a significant boost to trade and employment. It is also at the forefront of policies on sustainability.
About UNICEF India
UNICEF works in some of the world's toughest places, to reach the world's most disadvantaged children. More than 190 countries and territories, we work for every child, everywhere, to build a better world for everyone.
About GIZ
The Deutsche Gesellschaft für Internationale Zusammenarbeit GmbH or GIZ is a German development agency that provides services in the field of international development cooperation. GIZ has over 50 years of experience in a wide variety of areas, including economic development and employment promotion, energy and the environment, and peace and security. The diverse expertise of our federal enterprise is in demand around the globe – from the German Government, European Union institutions, the United Nations, the private sector and governments of other countries. GIZ works with businesses, civil society actors and research institutions, fostering successful interaction between development policy and other policy fields and areas of activity.
About CEEW
The Council on Energy, Environment and Water (CEEW) is one of South Asia's leading not-for-profit policy research institutions. The Council uses data, integrated analysis, and strategic outreach to explain – and change – the use, reuse, and misuse of resources. The Council addresses pressing global challenges through an integrated and internationally focused approach. It prides itself on the independence of its high-quality research, develops partnerships with public and private institutions, and engages with the wider public.
About YuWaah
In 2018, as part of the UN Youth Policy 2030, UNICEF launched the global Generation Unlimited movement to meet the urgent needs of young people between the ages of 10-24, expanding learning, skill development, employment and engagement opportunities. The India chapter of Generation Unlimited – YuWaah – was launched in November 2019.
YuWaah, Generation Unlimited in India at UNICEF, is an ambitious multi-stakeholder platform that aims to prepare young people to transition from education and learning to productive work and active citizenship. It was formed by UNICEF, together with public and private sector partners, UN Agencies, civil society organizations, foundations and young people as the Generation Unlimited (GenU) partnership in India.