Youth Climate Conclave (YCC) 2022
---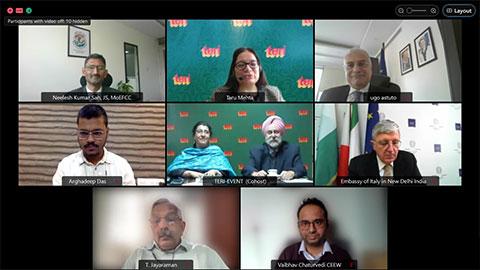 New Delhi, February 11, 2022: A 'Youth Pledge' on climate action was prepared jointly by youth from across the country on Friday, 11th February 2022 as part of the third edition of the Youth Climate Conclave (YCC). The YCC was organized by the Delegation of the European Union to India, Deutsche Gesellschaft für Internationale Zusammenarbeit GmbH (GIZ), The Energy and Resources Institute (TERI), and Council on Energy, Environment and Water (CEEW) as part of the Strategic Partnership for Implementation of Paris Agreement (SPIPA) project being implemented with the Ministry of Environment, Forest and Climate Change (MoEFCC) as the nodal ministry. At the end of the youth climate conclave, winners of debate, photography, blog and short video contest were announced and virtually felicitated.
The third edition of the YCC was organized ahead of the World Sustainable Development Summit 2022 to be held from February 16-18. The selected youth participants were divided into two groups for debates on two topics, based on the capacity building and training programs organized during the two-day program. The debate was preceded by a session on understanding youth priorities and actions for development of draft youth pledge in a participatory manner. The Youth Pledge was presented on day two followed by virtual felicitation of four competitions (debate, blog, photography and short video) and marked the culmination of the "Youth Climate Conclave 2022", a two-day programme during which several youth participated in awareness building sessions and deliberations to present their views about issues related to climate change.
The event was held in the presence of Mr Neelesh Kumar Sah, Joint Secretary, Climate Change, Ministry of Environment, Forest and Climate Change, Government of India, HE Mr Vincenzo de Luca, Ambassador of Italy to India, HE Mr Ugo Astuto, Ambassador of the European Union to India, and Dr Vibha Dhawan, Director General, TERI.
Speaking on the occasion, the Joint Secretary, said, "Climate Change is a global concern. Global concerted efforts are the need of the hour to deal with the issue."
HE Mr Ugo Astuto, EU Ambassador to India said, "We are celebrating in 2022 the European Year of Youth, recognising the importance of youth to build a better future – greener, more resilient, inclusive and digital. Therefore I am particularly happy to partner this year again with the Ministry of Environment, Forest and Climate Change, TERI, CEEW and GIZ in the organisation of this 3rd Youth Climate Conclave, reaching out to young people from all over India."
"The involvement of a non-state actor such as youth in the negotiation process on climate change has been key 'in driving ambition' for immediate and urgent climate action," HE Mr Vincenzo de Luca, Ambassador, Embassy of Italy in India said in his special remarks.
In her opening remarks at the event, Dr Vibha Dhawan, DG, TERI said, Children are the future leaders and driving force behind the need for sustainability and urgent climate action. YCC acts as a platform for youth to further climate action and reach out to as many stakeholders as possible."
The 3rd Edition of the YCC also included presentations on the Eco-clubs program of the MoEFCC from Gujarat and Punjab. Screening of winning short videos and video messages from business leaders and climate personalities was also part of the conclave. The youth pledge will be presented at the World Sustainable Development Summit 2022 along with a ceremony for felicitation of the winners of debate, photo, short video and blog competitions. The 'Youth Pledge' text will highlight the need for younger generations to assume an active role in finding constructive solutions to climate change.
The two-day program included presentations by high level experts on topics, understanding the science of climate change and global community's response over achieving 'net zero' targets", "India acts" session under the umbrella of adaptation & mitigation, and lastly on what can we do, to emphasize adoption of a more sustainable lifestyle.
The key speakers included Dr. Vaibhav Chaturvedi, Fellow, CEEW, Amb. Manjeev Puri, Distinguished Fellow, TERI, Mr Koyel Kumar Mandal, Chief of Programme, Shakti Sustainable Energy Foundation Prof T Jayaraman, Senior Fellow, M S Swaminathan Research Foundation, Dr Ashish Chaturvedi, Director- Climate Change, GIZ India, Dr Arunabha Ghosh, CEO, Council on Energy, Environment and Water, Ms Seema Arora, Deputy Director General, Cll, Dr Indu K Murthy, Sector Head – Climate, Environment & Sustainability, C-STEP, Dr Susan George K Scientist 'E' (EE Division), Ministry of Environment, Forest & Climate Change, GoI, Tanmay Takle, Special Assistant to the Minister for Environment & Climate Change, Tourism and Protocol (Government of Maharashtra), Columbia University and Mr Darsh Vatsa, Student, Delhi Public School, Sonepat (YCC Delegate).
The Youth Climate Conclave 3rd edition was launched on the concluding day of YCC 2nd Enclave which preceded the Adaptation Futures Conference 2020 on 01 October 2021 and included a series of activities such as photography, blogging and short video competitions for youth in age categories of 10-18 yrs (A – Category) and 19-25 yrs (B – Category) whose winners were awarded alongside the presentation of the Youth Pledge at the Conclave.
Link for the 3 competitions (Blog, Photography and Short Video) can be found here
Link for the Youth Pledge can be found here
About TERI:
The Energy and Resources Institute (TERI) is an independent, multi-dimensional organisatio n, with capabilities in research, policy, consultancy and implementation. It has pioneered conversations and action in the energy, environment, climate change, and sustainability space for over four decades.
The institute's research and research-based solutions have had a transformative impact on industry and communities. Headquartered in New Delhi, it has regional centres and campuses in Gurugram, Bengaluru, Guwahati, Mumbai, Panaji, and Nainital, supported by a multidisciplinary team of scientists, sociologists, economists and engineers, and state-of-the-art infrastructure.
About the European Union (EU):
The EU has the world's largest economy and its third largest population, after China and India. Though richly diverse, the countries that make up the EU (its 'Member States') are all committed to the same basic values: peace, democracy, the rule of law and respect for human rights. They have set up common institutions so that decisions on matters of joint interest can be made democratically at the European level. By creating a frontier-free single market and a single currency (the euro) which has been adopted by 19 Member States, the EU has given a significant boost to trade and employment. It is also at the forefront of policies on sustainability.
EU-India relations: For over 50 years the EU and India have worked together to reduce poverty, prevent disasters, expand trade, and promote joint research in energy, health, agriculture and many other fields of mutual interest. More information at: http://eeas.europa.eu/delegations/india
About GIZ:
The Deutsche Gesellschaft für Internationale Zusammenarbeit GmbH or GIZ is a German development agency that provides services in the field of international development cooperation. GIZ has over 50 years of experience in a wide variety of areas, including economic development and employment promotion, energy and the environment, and peace and security. The diverse expertise of our federal enterprise is in demand around the globe – from the German Government, European Union institutions, the United Nations, the private sector and governments of other countries. GIZ works with businesses, civil society actors and research institutions, fostering successful interaction between development policy and other policy fields and areas of activity.
About CEEW:
The Council on Energy, Environment and Water (CEEW) is one of South Asia's leading not-for-profit policy research institutions. The Council uses data, integrated analysis, and strategic outreach to explain – and change – the use, reuse, and misuse of resources. The Council addresses pressing global challenges through an integrated and internationally focused approach. It prides itself on the independence of its high-quality research, develops partnerships with public and private institutions, and engages with the wider public.
For further information, contact:
Sumit Bansal – sumit.bansal@teri.res.in