TERI launches pilot study to introduce Battery Energy Storage System (BESS) to upgrade power infrastructure
---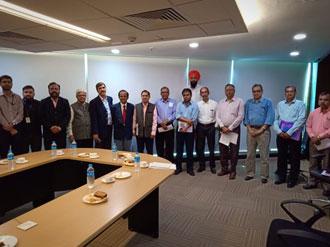 - Study to support implementation of Battery Energy Storage Systems (BESS) in West Bengal on pilot-scale
- Held the first project inception meeting today at Bidyut Unnayan Bhavan (HQ of Dept. of Power)
Kolkata, November 22, 2018: With increasing electricity consumption, the distribution transformers get overloaded during peak load hours. In order to reduce the stress on transformers during peak hours and reduce the peak power requirement, The Energy and Resources Institute (TERI), with support from MacArthur Foundation, today launched a first-of-its-kind pilot project in India to support implementation of Battery Energy Storage Systems (BESS) at distribution level, in Kolkata. Working in collaboration with West Bengal State Electricity Distribution Company Limited (WBSEDCL), the project aims at integration of BESS at distribution level.
A comprehensive module would be developed to assist WBSEDCL in determining application-specific optimum battery capacity, operational logic and levelized cost of storage. This module could be customized for other Distribution utilities as well. For implementation of the pilot project, TERI would act as project management consultant (PMC) to WBSEDCL & Dept. of Power & NES, GoWB. Prominent local Battery manufacturers have also shown keen interest to support the project as this is one of the first of its kind project in India, demonstrating utilization of BESS at downstream of distribution network.
Speaking about the project, Dr Ajay Mathur, Director General, TERI, said, "We, at TERI, are delighted to work with WBSEDCL on the innovative, and possibly cost effective, option of using batteries to meet peak loads, as well as to store electricity from rooftop solar installations at off-peak hours. We believe that this could be an exciting and game-changing innovation that could be effectively utilised in urban areas."
The Indian power sector is currently going through a 'turbulent transition' phase with the Government of India having set up an ambitious target of achieving 175 GW of renewables by 2022, which as per NEP (CEA, 2018) is slated to reach 275 GW by 2027. Increasing penetration of renewable energy as well as deployment of low-emission vehicles by 2030 is critical to adoption of low-carbon pathways in the country. However, these initiatives can provide synergistic opportunities for applications of BESS to be an enabler of a secure electricity grid by managing variability of Renewable Energy (RE) generation.
Mr Sunil Kumar Gupta, additional chief secretary, Dept. of Power & NES, said, "There is requirement of a solution at hand to manage the skewed peak and off-peak demand situation existing in West Bengal wherein solar power can be stored during daytime to supply the evening peak without backing down thermal power." He also said his department acknowledges MacArthur foundation for its funding support.
TERI is also working with The Calcutta Electric Supply Corporation Limited (CESC) to explore more opportunities for BESS. Over the last five years, TERI has remained actively engaged with Dept. of Power, WBSEDCL, West Bengal Renewable Energy Development Agency (WBREDA), and CESC for various projects such as demand forecasting, renewable energy integration, distribution system strengthening, and demand-side-management interventions.
About TERI
The Energy and Resources Institute (TERI) is a leading think tank dedicated to conducting research for sustainable development of India and the Global South. Established in 1974, TERI has become the pre-eminent institution for research, discussion and thought leadership on environmental governance and sustainable development.
The Institute is committed to the application of thought that drives action in the direction of tackling climate change.
For further details, please contact:
TERI: Aastha Manocha: aastha.manocha@teri.res.in
Edelman: Sneha Dev: 9958000706 | Sneha.Dev@edelman.com