TERI-IWA-UNDP Water Sustainability Awards is a hat tip to the work done at the grassroots
---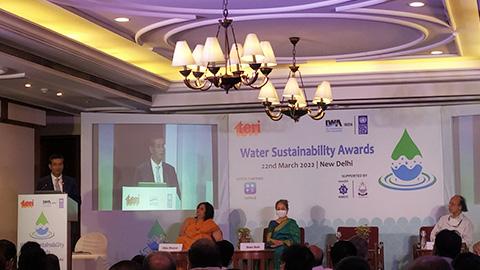 New Delhi, March 22: Pointing out that water is going to play the most crucial role in achieving the Sustainable Development Goals (SDGs), Mr Bharat Lal, Secretary, Lokpal of India, said the TERI-IWA-UNDP Water Sustainability Awards enables the sharing of experiences and knowledge on water sustainability. "This is truly a people's award," said Mr Lal at the TERI-IWA-UNDP Water Sustainability Awards event in New Delhi on World Water Day on Tuesday.
"Most of the organisations are working in different parts of the country on water sustainability. We need to know what they are doing and how they are doing it and that knowledge and experiences need to be shared," observed Mr Lal in his inaugural address.
The TERI-IWA-UNDP Water Sustainability Awards (WSA) have been instituted to encourage the achievement of the SDG on water by reducing water footprint among stakeholders.
Noting that sustainability of water has been ignored for long, Dr Vibha Dhawan, Director General, TERI, in her welcome address said the WSA is an acknowledgement of the timely steps taken by multiple stakeholders to address the issue. "When it comes to water and other natural resources, every citizen is a stakeholder," said Dr Dhawan.
In her special address, Ms Shoko Noda, UNDP Resident Representative in India, UNDP, said it is estimated that nearly 700 million people will be displaced by water scarcity by 2030. "Water is also strongly linked to women's empowerment," Ms Noda said.
Dr SK Sarkar, Senior Director, TERI observed the WSA is among the rare awards where all the targets of SDGs are recognised. "The awards aim to bring the work done by stakeholders into the public domain," Dr Sarkar added.
The awards are spread over multiple categories and domains within the water sector, and recognize the role of multiple stakeholders including individuals, civil society organizations, industries, municipal boards, village panchayats, and RWAs that are leading the local movement for the SDGs in the most transformative, impactful and innovative way.
Mr RK Sama, a Gujarat-based retired IFS officer, was felicitated with the 'Water Champion (Individual)' award for his wide-ranging contribution to facilitating access to water. The award for 'Water Champion (Institutional)' was given to Parmarth Samaj Sevi Sansthan, a Bundelkhand-based non-governmental organisation for its work in the drought prone region and enabling enhanced community participation through initiatives such as forming Jal Saheli groups among rural women.
The TERI-IWA Water Sustainability Awards evaluate excellence in new ideas, approaches, processes, products, services, technologies, and other innovations in the water sector which can tangibly address the SDGs. Winners in the multiple categories are: Grasim Industries Limited (Category: Water for All); Dhosa Chandaneswar Bratyajana Samity (Category: Sanitation for All ); Bharat Petroleum Corporation Limited (Category: Wastewater Treatment & Safe Reuse); Toyota Kirloskar Motor Pvt. Ltd.(WUE Water Users in Industrial Sector); NIIT University (WUE Water Users in Domestic Sector); Sugarcane Breeding Institute Team (WUE Water Users in Agricultural Sector ); Watershed Organisation Trust (WOTR) (Excellence in Participatory Water Management); WWF-India and Bashettihalli Kere Samrakshna Samiti (Protect and Restore Community Water Structures); Swiss Development Corporation (Promoting Water Cooperation); Maithri Aquatech Private Limited (Innovation in Water Technology).
Water for All: Options for Safe, Sustainable and Resilient Future was released during the event, along with a compendium Water Sustainability Awards: Recognized Initiatives 2021-22. Experts also took part in a panel discussion on 'Groundwater Management: Key to Achieve Sustainable Development Goals'. The awards are supported by the Delhi Jal Board and NDMC, while Editorji is the media partner. The call for applications for next year's WSA will be open soon.
About TERI
The Energy and Resources Institute (TERI) is an independent, multi-dimensional research organization, with capabilities in policy research, technology development, and implementation. Headquartered in New Delhi, TERI has regional centres and campuses in Gurugram, Bengaluru, Guwahati, Mumbai, Panaji, and Nainital, supported by a multi-disciplinary team of scientists, sociologists, economists, engineers, administrative professional and state-of-the-art infrastructure.
For more information, e-mail:
P Anima – animap@teri.res.in
Sumit Bansal - sumit.bansal@teri.res.in