TERI develops innovative technology for end-to-end treatment of wastewater
---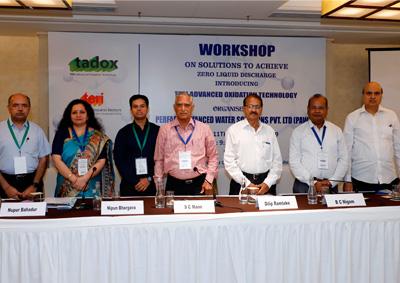 TERI Advanced Oxidation Technology (TADOX) offers clean, green, sludge-free, cost-effective and resource-efficient treatment of wastewater streams, enabling Zero Liquid Discharge and enhancing water re-use efficiency
September 11, 2019, New Delhi: The Energy and Resources Institute (TERI) and Perfact Group have ventured into a collaboration to promote TERI's patent-pending technology, TERI Advanced Oxidation Technology (TADOX) for comprehensive treatment of wastewater.
The technology offers end-to-end treatment of industrial wastewater or mixed streams with untreated sewage or municipal wastewater, containing high colour, Chemical Oxygen Demand (COD), Biological Oxygen Demand (BOD), Total Organic Carbon (TOC), dissolved organics, non-biodegradable or persistent organic pollutants (POPs).
The treatment integrates nanotechnology with Advanced Oxidation Processes (AOPs), which together is referred to as Advanced Oxidation Nanotechnology (AON).
In 2015, the Central Pollution Control Board (CPCB) introduced the concept of Zero Liquid Discharge (ZLD) for highly polluting industries. Under its ZLD scheme, identified industries were prohibited from discharging treated or untreated wastewater out of their premises, and mandated to and completely treat, reuse and recycle treated wastewater before its emission.
Dr Alok Adholeya, Director, TERI-Deakin Nano Biotechnology Centre, TERI said, "If the industrial sector can completely achieve ZLD, it may be able to solve the interlinked problems of groundwater depletion, freshwater availability, efficient water management and water conservation."
Despite substantial progress over the years, achieving Zero Liquid Discharge (ZLD) has posed challenges, necessitating wastewater treatment innovation. Nanotechnology holds greater promise for much more efficient, faster and adequate treatment, as compared to conventional protocols and TERI has taken steps in that direction, he added.
Currently deployed technologies incur a huge cost to achieve the mandated standards of Biological Oxygen Demand (BOD) and Chemical Oxygen Demand (COD) wastewater treatment.
Highlighting the benefits of TADOX, the technology's inventor Nupur Bahadur, Fellow, TERI-Deakin Nano Biotechnology Centre, TERI, said, "TADOX involves limited use of externally added chemicals and the overall process - which completely degrades and mineralizes suspended as well as dissolved organics - is highly efficient. Further, the treatment process generates a negligible amount of non-toxic sludge, which is reduced from the industry average of 42.6 kg/m3 to 0.4 kg/m3, which reduces the burden of sludge disposal and management and ultimately prevents secondary pollution."
Praveen Bhargava, MD, Perfact Group said that the collaboration between TERI and their environmental consultancy will enable the industry to effectively adopt the right solutions, meeting their needs and compliance to the regulatory standards set by the Ministry of Environment, Forest and Climate Change (MoEFCC), CPCB, and the National Green Tribunal (NGT).
The newer standards exceed the capabilities of conventional protocols. We expect that the use of innovative and sustainable solutions like TADOX will enable industries and municipalities to treat water and achieve standards for various industrial processes, he added.
The technology is ready for pilot-stage demonstrations and field trials. It has been successfully tested at pilot-scale to treat the sewage wastewater and effluents from various industrial sectors such as textile, dyeing, tannery, slaughterhouses, chemicals, pharmaceuticals, and the oil and gas industry.
TADOX offers an integrated approach with existing systems for compliance with Zero-Liquid discharge (ZLD) norms for recycling and reuse. Early users of the technology have validated the effectiveness of technology for its wastewater treatment and processing for ZLD. They also shared keen interest and talks are underway for installing and upscaling the technology at their respective sites.
Further application areas of TADOX include point-source pollution abatement, achieving ZLD, enhancing water re-use efficiency, river cleaning programs like 'Clean Ganga', decentralised treatment options and water-wise Smart Cities in India.
About TERI
The Energy and Resources Institute (TERI) is an independent, multi-dimensional organisation, with capabilities in research, policy, consultancy and implementation. It has pioneered conversations and action in the energy, environment, climate change, and sustainability space for over four decades.
The institute's research and research-based solutions have had a transformative impact on industry and communities. Headquartered in New Delhi, it has regional centres and campuses in Gurugram, Bengaluru, Guwahati, Mumbai, Panaji, and Nainital, supported by a multidisciplinary team of scientists, sociologists, economists and engineers, and state-of-the-art infrastructure.
For further information, contact:
TERI – Dhawal Trivedi: dhawal.trivedi@teri.res.in
Edelman – Rakhi Aurora: rakhi.aurora@edelman.com