TERI and USDMA organised a workshop for disaster risk reduction in buildings
---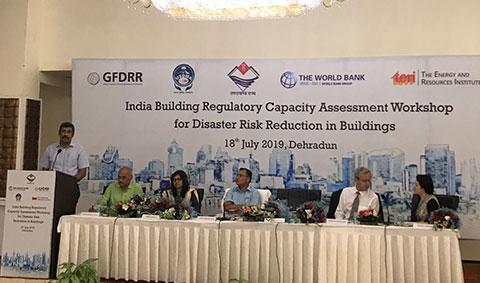 July 18, 2019, Dehradun: Uttarakhand State Disaster Management Authority (USDMA), in collaboration with The World Bank and The Energy and Resources Institute (TERI), organised a workshop in Uttarakhand on "India Building Regulatory Capacity Assessment Workshop for Disaster Risk Reduction in Buildings".
The workshop was inaugurated by Amit Singh Negi, Secretary, USDMA along with Piyoosh Rautela, Executive Director, Tripti Bhatnagar, SP Commandant SDRF, Thomas Moullier from the World Bank who is the Global Coordinator for Building Regulation for Resilience Program at the World Bank, and the project team from TERI.
The aim of this workshop was to culminate findings from three states, Uttarakhand, Andhra Pradesh, and Jammu and Kashmir, and gather findings and need of India in terms of Building Regulations for Resilience. Uttarakhand, with efforts spearheaded by TERI, is the leading state and aims to provide enhanced attention to the safety and resilience for the built environment, and focused on Mapping and Re-engineering of building control processes and an assessment of local building code implementation capacity within the states and improvisation for on-site building inspection. The outcomes of these studies will help in the enhancement of on-site building inspections and quality control of essential facilities.
The workshop discussed and brought information from a global perspective as well as the three states mentioned above. Many commonalities were observed under these states were identified in terms of construction at disaster-prone sites and implementation capacity of the state authorities. Further, the locals are not aware of the approval processes and governmental clearances were required that pose a threat to the nation. There is a huge potential for improvisation in terms of micro-zonation, capacity building at local and ground level as well as at a higher management level within the government, licensing and specialised training to buildings professionals as well as the state-specific legislative framework for building regulatory processes and system.
The next steps under the studies would be to update the building bylaws for safety in buildings and optimise Building Regulation processes for ease of doing business. Further, recurrent capacity building programs in collaboration with academic institutions such as IIT Roorkee and CBRI for state officials for safe and resilient buildings. Specialised training for Disaster Management Authorities, Development Authorities and Country and Town Planning Department will be done. This will help to enhance safety standards and making India a more resilient and safe country.
About TERI
The Energy and Resources Institute (TERI) is an independent, multi-dimensional organisation, with capabilities in research, policy, consultancy and implementation. It has pioneered conversations and action in the energy, environment, climate change, and sustainability space for over four decades.
The institute's research and research-based solutions have had a transformative impact on industry and communities. Headquartered in New Delhi, it has regional centres and campuses in Gurugram, Bengaluru, Guwahati, Mumbai, Panaji, and Nainital, supported by a multidisciplinary team of scientists, sociologists, economists and engineers, and state-of-the-art infrastructure.
For further details, please contact:
TERI - Mr Akhil Singhal, M: 9811333797, E: Akhil.Singhal@teri.res.in