TERI and Tata Steel Foundation initiate Phase IV of the Green School Project
---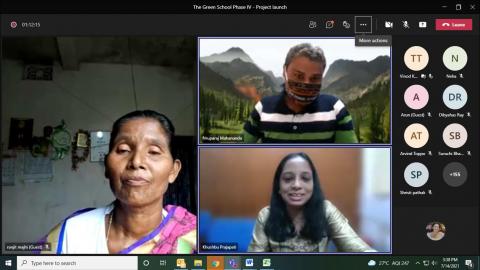 The fourth phase of the Green School Project will extend itself to include the town of Sukinda. The project has designed a new Green Buddy Programme and will work towards encouraging teachers to become peer planners for project related activities.
New Delhi, July 16: The Energy and Resources Institute (TERI) and Tata Steel Foundation launched Phase IV of the Green School Project on Wednesday at a virtual event that saw the participation of all stakeholders including students, teachers, and schools involved in the project. Beginning its fourth phase, the project has been extended to include Sukinda, a town in Odisha which is part of Tata Steel Limited's operational area, to further its efforts around creating awareness among students on climate change, sustainability, and environmental stewardship.
The new phase of the project was launched virtually in the presence of Mr R R Satpathy, General Manager - Corporate Services, Tata Steel Kalinganagar and Ms Anna Kujur, Eco-Revolutionist, Athkosia Adivasi Sangathan.
In light of the COVID-19 pandemic the project will go completely virtual this year with a greater emphasis on generating awareness amongst students around climate action, particularly on the Sustainable Development Goals (SDGs). In the previous years it was solely the coordinating teachers who were involved in the planning and execution of activities such as awareness rallies, plantation drives and more. The new phase, however, aims to encourage teachers of partner schools to become peer planners and develop yearly plan of activities for their schools under the themes of climate action and SDGs.
Additionally, the project is introducing a new programme called the 'Green Buddy Programme' to help students become future change makers. The programme will see students associated with the project since its inception and who have developed their capacities on various aspects of sustainability, conduct and lead school activities. Students from at least one of the best performing schools under the Green School Project will be selected as Green School Buddies. These students will be motivated to plan and execute informal sessions to generate awareness on environmental issues for new students and those in the primary section. TERI and the Tata Steel Foundation will work on guiding these Green School Buddies in the planning the sessions.
Speaking on the occasion, Mr Satpathy said, "Restoration of ecosystems is our key focus in Phase IV of the Green School Project. While our generation can help initiate this process of restoration, it is the students who have to work on imbibing these qualities in them and become change makers of tomorrow. We need to start from the basics and help them understand the value of resources and generate awareness around environmental degradation."
Addressing the students further, he said, "Your generation needs to innovate and develop technologies to protect and restore the planet for a better future. The Green School Project has been performing well and with restoration being the new area of focus the scope of this initiative has grown exponentially."
"We need to learn to love our environment and nature. With land degradation and deforestation, the adverse effects of local climatic changes can be clearly observed. Thus, planting trees and addressing deforestation will greatly help in working towards a healthy environment and consequently a healthy body," Ms Kujur said at the event.
Addressing a session on Climate Change and SDGs, Ms Suruchi Bhadwal, Senior Fellow, Earth Sciences and Climate Change, TERI, said, "Reducing the use of fossil fuels and our interference with the environment while increasing the application of cleaner energies will help us mitigate the impacts of climate change. Sustainable development and the 17 SDGs thus hope to steer the global economies on a climate friendly pathway".
The Green School Project was formally launched in April 2017 to help students across Tata Steel's operational areas in Jharkhand and Odisha improve their critical, interdisciplinary, and holistic thinking. The focus of the project is to create awareness and enable the student and teacher fraternity to better understand their relationship with nature and make concerted efforts to conserve it through resource management initiatives at local levels.
About Tata Steel Foundation
Tata Steel Foundation was incorporated on August 16, 2016 under Section 8 of the Companies Act, 2013. It is a wholly owned subsidiary of Tata Steel Limited and is committed towards playing a larger role in India's sustainable development by embedding wider economic, social and environmental objectives through its programmes. The Foundation has therefore broad-based its community engagement to effect societal changes through its Proximate Community Development (PCD) programmes that include creating a systemic education process for children and adolescents, eradicating worst forms of child labour, doubling income generation of its marginalized households and addressing water and sanitation issues of its communities. Complementing its PCDs are a set of change models, called Signature Programmes, which engage in research-based development models which are replicable at scale across a wide region. The Signature Programmes, which can consolidate diverse resource pools and multiply the impact potential on citizen's lives, enable the Foundation to advocate a structure to government and other organisations working for positive change. Some aspects of such programmes are evident in programmes like MANSI (Maternal and Newborn Survival Initiative), RISHTA (An Adolescent Health Education Project), Thousand Schools Programme and Samvaad.
About TERI
The Energy and Resources Institute (TERI) is an independent, multi-dimensional organisation, with capabilities in research, policy, consultancy and implementation. It has pioneered conversations and action in the energy, environment, climate change, and sustainability space for over four decades.
The institute's research and research-based solutions have had a transformative impact on industry and communities. Headquartered in New Delhi, it has regional centres and campuses in Gurugram, Bengaluru, Guwahati, Mumbai, Panaji, and Nainital, supported by a multidisciplinary team of scientists, sociologists, economists and engineers, and state-of-the-art infrastructure.