TERI and STEAG launch Containerised Solar PV Solutions to provide clean energy to off-grid populations
---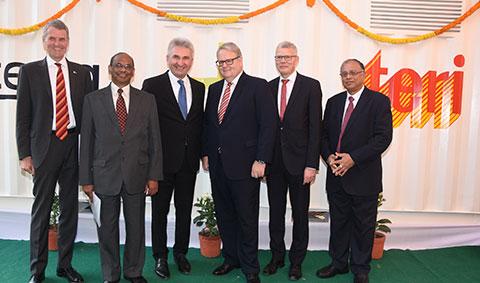 The system is expected to generate around 10,000 kWh per year and will remain on display near the TERI building in India Habitat Centre, New Delhi till the World Sustainable Development Summit
New Delhi, February 4, 2019: Keeping in view the agenda of attaining universal electricity access by 2030, and to enable access to reliable and affordable energy, STEAG Energy Services has developed a containerised hybrid Solar PV solution that can provide 24-hour electricity even without grid connection. The system was launched today by The Energy and Resources Institute (TERI), a leading think tank dedicated to conducting research and policy advocacy for sustainable development, in partnership with STEAG Energy Services. The event was graced by Prof. Andreas Pinkwart, Minister for Economic Affairs, Innovation, Digitalization and Energy of the state of North Rhine-Westphalia, along with Dr Ajay Mathur, Director General, TERI, Mr Joachim Rumstadt, CEO, STEAG GmbH, Dr Ralf Schiele, CEO, STEAG Energy Services GmbH, Mr B.P. Rao, Managing Director, STEAG Energy Services India Pvt. Ltd. (SESI), and Dr J.T. Verghese, Chairman, SESI.
The PV solution will provide an integrated renewable energy system designed to lessen the energy burden in low-income areas. It will provide stable power that will fulfil basic needs and improve living conditions of people in rural and far-flung areas in India and other developing nations. It can be quickly set up and put into operation on remote sites that have no grid or very poor grid availability.
Built on a 20-feet standard marine container, the containerised system can work as a grid-tied system where power is available and as an off-grid system where the grid is unavailable. The panels are fitted atop the container, providing it shade and helping control the temperature inside. Around 8.5 square metres of free area is available inside the container for setting up facilities (e.g. doctor´s clinic or cold storage) that would help the community.
The container initially serves as a transport container with which the entire equipment is delivered. At the destination, it will house the solar PV system. It will be placed on prepared platform/blocks, earthed and equipped with PV solar modules. Electricity is available if it is connected to the grid as a portable 'plug and play'. One such system is already deployed at a site near Gorakhpur, Uttar Pradesh, where it serves as a reliable source of energy to a non-profit organisation that manufactures sanitary napkins for women in rural areas.
A model of the same will remain displayed near the TERI building in India Habitat Centre (IHC) throughout the World Sustainable Development Summit (WSDS), TERI's flagship event, from 11th to 13th February 2019.
STEAG will take up the marketing of the containerised Hybrid Solar PV solutions in association with TERI.
Speaking on the occasion, Prof. Pinkwart said, "The PV container solution, as developed by STEAG, is a proven template of innovative products being derived from joint know-how and competence, both from North Rhine-Westphalia and India. It would be my desire that further entrepreneurs from North Rhine-Westphalia would take the chance that the Indian market is offering them.
Dr Mathur said, "The solar-based plug and play option provides for services such as primary healthcare centres, cold storage spaces, etc. that are needed locally in remote locations."
Mr Rumstadt said, "The system is a perfect example of German engineering experience realised in India for countries needing these solutions, including India and African countries. STEAG has been present in India for 18 years and has been offering high-end engineering technology expertise for engineering consultancy assignments and for carrying out comprehensive operation and maintenance of a variety of power plants and also providing innovative software solutions".
Dr Schiele added, "SESI mirrors all the activities of SES in Germany and has over a period of time matured itself and taken up assignments for engineering consultancy, comprehensive operation and maintenance of power plants and IT solutions for the power sector. We are proud to say that we have brought in improvements in the plants to achieve their best performing levels wherever we have taken up comprehensive operation and maintenance services. In fact, some of the power plants have reached high rankings in best performing power stations in India".
About TERI
The Energy and Resources Institute (TERI) is an independent, multi-dimensional organisation, with capabilities in research, policy, consultancy and implementation. It has pioneered conversations and action in the energy, environment, climate change, and sustainability space for over four decades. The institute's research and research-based solutions have had a transformative impact on industry and communities. Headquartered in New Delhi, it has regional centres and campuses in Gurugram, Bengaluru, Guwahati, Mumbai, Panaji, and Nainital, supported by a multidisciplinary team of scientists, sociologists, economists and engineers, and state-of-the-art infrastructure.
About STEAG Energy Services
STEAG Energy Services India Pvt. Ltd. was set up in 2001 and is a 100 per cent subsidiary of STEAG Energy Services GmbH based in Essen, Germany. The company provides cost-effective consultancy services of international standards by integrating resources of the parent company and those of STEAG Energy Services India (SESI). SESI combines the best of the technology and professionalism of its German principles and a thorough knowledge and understanding of conditions in the power sector in India.
The triad of high-end engineering technology expertise coupled with operation & maintenance experience and the capability to provide engineering and innovative software solutions makes SESI unique.
For further information, contact:
TERI - Aastha Manocha: aastha.manocha@teri.res.in

Edelman - Swati Sharma: swati.sharma@edelman.com

STEAG Energy Services - V.S. Sharma: vs.sharma@steag.in