TERI and Maxop to set up testing and research facility for solar pumps, other products
---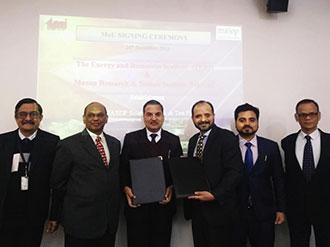 TERI and Maxop signed an agreement on Wednesday to set up the facility at TERI's centre in Gwal Pahadi, Gurugram
New Delhi, December 26: The Energy and Resources Institute (TERI) and Maxop Research and Testing Institute today signed an agreement to set up the 'TERI-Maxop Solar Testing and Research Facility' at TERI's centre in Gwal Pahadi, Gurugram.
The agreement was signed by Dr Ashvini Kumar, Senior Director, TERI, and Mr Shailesh Arora, Managing Director, Maxop group, at TERI in India Habitat Centre in the presence of Dr Ajay Mathur, Director General, TERI.
The facility to be set up is for testing of solar water pumping systems and other solar products in compliance with Bureau of Indian Standards (BIS) and international standards.
The market for solar water pumping systems is expanding exponentially due to aggressive policies of the Government of India and schemes such as Kisan Urja Suraksha Evam Utthaan Mahaabhiyan (KUSUM), which is to be launched soon. Various state governments too have initiated schemes for promoting different solar water pumping models. The International Solar Alliance (ISA) is also planning to go ahead with massive solar pumping programmes for member countries. The TERI-Maxop Solar Testing and Research Facility will support these initiatives by providing testing and certification services, giving additional research inputs, and so on.
On the occasion, Dr Mathur said, "It is a pleasure to enter into this partnership. We want to make sure that our products are on the frontline on both performance and price. We want our results to be higher and better than what the standards ask for."
"The TERI-Maxop Solar Test and Research Facility will be a multi-dimensional, state-of-the-art facility that aims to meet industry requirements and support various government initiatives," said Dr Kumar.
TERI has been operating its own solar lighting test facility at Gwal Pahadi since 2009. This was established with support from the Ministry of New and Renewable Energy (MNRE), Government of India, and through projects funded by the Government of Norway. In 2012, the International Finance Corporation (IFC), a World Bank group institution provided additional funds to expand the facilities. Subsequently, the facility received accreditation from the National Accreditation Board for Testing and Calibration Laboratories (NABL) in 2014. Since then, TERI has been providing testing, consulting and capacity building services in solar photovoltaic (PV), battery, and systems for clients from India and developing countries including Afghanistan, Bangladesh, Pakistan, Nigeria, and Ethiopia.
The Maxop Research and Testing Institute, part of the Maxop group, is to work in testing in the fields of solar PV and electric vehicles, among others. It will be a solution provider through testing and research, ensuring flow of safety approved products in the market.
"The TERI-Maxop Solar Testing and Research Facility is an initiative to establish a strong business pillar towards a clean vision for the future," said Mr Arora.
About TERI
The Energy and Resources Institute (TERI) is a leading think tank dedicated to conducting research for sustainable development of India and the Global South. Established in 1974, TERI has become the pre-eminent institution for research, discussion and thought leadership on environmental governance and sustainable development.
The Institute is committed to the application of thought that drives action in the direction of tackling climate change.
For further details, please contact
TERI - Aastha Manocha: 8447049011 | aastha.manocha@teri.res.in