TERI and Evergreen Story launch Future Climate Leaders program to engage schoolchildren in climate action measures
---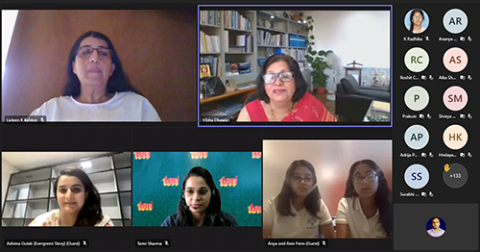 New Delhi, July 8, 2022: The Future Climate Leaders (FCL) Program, an innovative, hands-on, and solutions-based initiative co-developed by The Energy and Resources Institute (TERI) and Evergreen Story to sensitise and motivate schoolchildren to take on a proactive role in climate action, was launched in New Delhi on Friday.
The program, which brings together TERI, the research institution with wide-ranging capabilities in environmental education and awareness, and the sustainable audio storytelling platform, Evergreen Story, will endeavour to educate, empower and mentor schoolchildren to design actions that will reduce CO2 emissions at home, school, and in the community.
Piloted in Delhi, the four-month inter-school program will engage students aged 14-18 years and aim to make them key stakeholders in climate action by equipping them with tools for measurable carbon reduction and spurring them to find local solutions to a global problem.
Launching the FCL Program, Dr Vibha Dhawan, Director General, TERI, emphasised the need to make young people active participants in climate action initiatives. "Future Climate Leaders program will continue to uphold the pride of producing young ambassadors for the cause of society and it is a unique achievement". The website of the program was also launched at the event.
In her inaugural address, Professor Shannon Olsson, Global Director, the echo network and Special Scientific Envoy to India with the Danish Academy of Technical Sciences, said, "Young people are not the future. They are the now. We must empower and catalyze our youth to participate actively in their homes, their communities, and even at the national level for the sustainability of our country and our planet."
Highlighting the potentially pivotal role high school children could play in bringing about incremental changes that address the climate crisis, Aadya Joshi, recipient of Children's Climate Prize 2020 and founder of The Right Green, said "It is crucial for us as youth to be at the forefront of the climate movement and to make a change for our future."
Ashima Gulati, Executive Director-FCL Program, Evergreen Story, said, "Throughout history, generations of youth have catalyzed change. To accelerate environmental sustainability and climate action, we need to hear youth's perspectives and capitalize on their energy while enhancing and promoting their thought-leadership and action skills."
Introducing the initiative, Vidhu Kapur, Associate Fellow and Principal Investigator-FCL program, TERI, emphasised the need to be make youth aware of the climate crisis. "Future Climate Leaders program intends to familiarise the young generation about the impact of climate change crisis on humanity. It aims to raise consciousness among future generation decision makers, entrepreneurs and consumers about climate change and environment and motivate them to opt sustainable lifestyles."
The FCL was conceived through an intense collaboration between New Jersey and New Delhi and the serendipitous meeting of minds between Evergreen Story and TERI. Anya Fenn, Co-Founder of Evergreen Story, said, "As Indian-origin high school students in the US, my sister and I have been most impressed with how aware and conscious our peers in India are about climate change. We hope to bring learnings from the FCL program back to high schools in the US."
The program will focus on actions centred on CO2 emissions in areas of household waste, food and nutrition, and sustainable menstruation. The initiative attempts to contribute to achieving Sustainable Development Goals on sustainable cities and communities, responsible consumption and production, and climate action. The program will culminate with a summit in New Delhi in November, where participants will present their action projects.
About TERI
The Energy and Resources Institute (TERI) is an independent, multi-dimensional research organization with capabilities in policy research, technology development, and implementation. Headquartered in New Delhi, TERI has regional centres and campuses in Gurugram, Bengaluru, Guwahati, Mumbai, Panaji, and Nainital, supported by a multi-disciplinary team of scientists, sociologists, economists, engineers, administrative professionals, and state-of-the-art infrastructure.
About Evergreen Story
Evergreen Story (EGS) is an audio storytelling platform with a sustainable heart. Co-founded by Indian-origin twin sisters Anya and Anvi Fenn in New Jersey, EGS integrates storytelling and climate action. EGS is on a mission to record, preserve, and share humanity's stories and use the medium of storytelling to support the environment by planting a fruit tree with a needy farmer for each story recorded and published. EGS has published thousands of oral stories from India and the diaspora, intending to pay tribute to our shared human spirit of perseverance and progress. Evergreen Story's founders sponsor tree saplings from their savings. To date, they have sponsored 50,000 fruit trees, of which 12,000 have been planted in 2021.
For more details, contact:
P Anima: animap@teri.res.in
Sumit Bansal: sumit.bansal@teri.res.in