TERI and Dew Projects and Chemicals Pvt Ltd. sign a License Agreement for the commercialization of TERI's patented TADOX® technology for wastewater treatment
---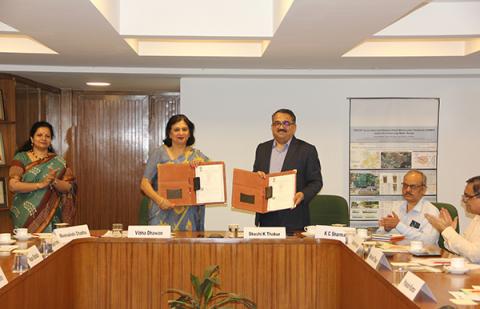 New Delhi, March 14, 2023: The Energy and Resources Institute (TERI) signed the TADOX® Technology and Trademark License (TTLA) Agreement with Dew Projects and Chemicals Pvt. Ltd, Noida, for the commercialization of TERI's patented wastewater treatment technology for municipal and industrial wastewater treatment and reuse in New Delhi on Tuesday.
The economics of adequate treatment of wastewater, reuse and mandate to achieve Zero Liquid Discharge (ZLD) has long been a challenge for industries. Advanced Oxidation Technologies like TADOX offer an economically viable and widely applicable solution to tackle the problem by making the process sustainable and energy efficient, noted Dr Vibha Dhawan, Director General, TERI at the event.
The 2022 FICCI Water Award winning technology, TADOX® involves UV-Photocatalysis as an Advanced Oxidation Process (AOP), leading to oxidative degradation and mineralization of targeted pollutants. It also uses novel approaches which result in reduced use of chemicals in the overall treatment, as well as minimizing the quantum of sludge, preventing secondary pollution, and providing highly resource and energy-efficient treatment.
Since sustainability has been a growing focus area in treating wastewater on scale, Mr Shashi Kant Thakur, Director, Dew Projects and Chemicals Pvt Ltd, Noida highlighted, "Through TADOX® we will be able to solve two of our biggest challenges of energy use and CAPEX and OPEX."
This agreement will help us to introduce the technology in a phased manner for various industries and utilities and hopefully provide a complete solution to the end user rather than offering them piecemeal, Mr Thakur added.
Appreciating the novel, affordable, efficient, and sustainable approach of TADOX® to treat wastewater for its reuse, and the fruition of an idea to reach this stage of technology commercialization, Dr Praveen Arora, Scientist-G and Head, Water Technologies Cell, Department of Science and Technology, Government of India, said "It will act as a model for development for other technologies for water treatment."
Speaking about the opportunities that TADOX® present given that it can be incorporated in the present wastewater treatment infrastructure by retrofitting, Dr Suneel Pandey, Director, Environment and Waste Management Division, TERI said, "Once taken to commercialization it can help solve several challenges related to wastewater treatment."
Recently a 20 KLD TADOX® Wastewater Treatment Plant has been successfully commissioned in a Common Effluent Treatment Plant (CETP) of a textile cluster in Kanpur through the funding support of the Namami Gange program. The plant was inaugurated by Mr G Asok Kumar, IAS, DG-National Mission for Clean Ganga (NMCG), Ministry of Jal Shakti, GoI.
Dr Nupur Bahadur, Senior Fellow and Associate Director, Environment and Waste Management Division, TERI, and Head, NMCG-TERI Centre of Excellence on Water Reuse and the inventor of TADOX® emphasized the role of ecosystem and funding support through DST and NMCG, which helped her and the team to reach here. Further support from industry will be able to scale up the technology.
To know more about TADOX®: https://youtu.be/prHy2Gu13Mk