Tata Steel and TERI take forward environment education initiative; sign phase IV of Green School Project
---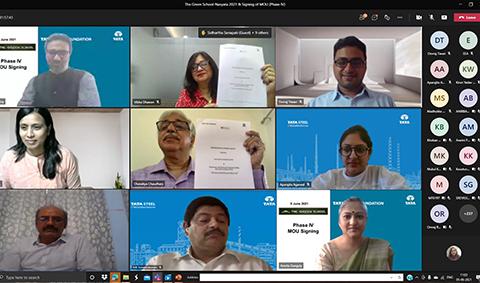 TERI and Tata Steel sign a MoU for Phase IV of the Green School Project on the occasion of World Environment Day.
New Delhi, June 5, 2021: On the occasion of World Environment Day 2021, TERI and Tata Steel jointly organized the closing ceremony of Phase III of Green School Project to felicitate students, teachers, schools and all stakeholders involved in this effort. They also signed an MoU for phase IV of the project which will focus on climate action, with a particular focus on SDGs. As in the past, the project will focus on developing an innovative teaching pedagogy.
The MoU was signed by Dr Vibha Dhawan, DG, TERI and Mr Chanakya Chaudhary, VP, Corporate Services, Tata Steel, in a virtual event titled Navyata. Mr D B Sundara Raman, VP, Raw Material, Tata Steel, Mr Pankaj Kumar Staija, Chief Regulatory Affairs, Tata Steel, Mr Sourav Roy, Chief, CSR, Tata Steel and Ms Neha, Fellow, Environmental Education and Awareness, TERI were present along with other dignitaries from TERI and Tata Steel.
Speaking on the occasion, Dr Vibha Dhawan said: "Since the inception of the project, we worked upon making environmental education and sustainability not just a part of the pedagogy, but more importantly, integral to the values and lifestyles of the students and the community. We now have model schools to be our ambassadors, as we endeavour to reach schools in even more remote areas. In these difficult times, this is a ray of hope."
"The Green School Project was conceived with the very idea to build a generation of environment conscious warriors who would conserve and protect the biodiversity and treasures of nature. The continuous degradation of resources, natural habitat of the millions of species has resulted in irreversible damage. It is up to us to not only just educate the young generation but also empower them with the right opportunities and tools to act upon the urgent need to restore the lost glory of our planet. Tata Steel realises this responsibility and has committed to a mission to prepare the next generation of Green Fighters who will find innovative ways to recreate the balance to co-exist with nature." said Mr Chanakya Chaudhary, VP, Corporate Services, Tata Steel.
'The Green School Project' was formally launched in April 2017 to help the students across Tata Steel's operational areas in Jharkhand and Odisha to improve their critical, interdisciplinary and holistic thinking. The focus of the project was to create awareness and enable school fraternity to comprehend their relationship with nature and make concerted efforts to conserve it through resource management initiatives at local levels. In the wake of the global pandemic which upended the education system, the project provided students with a plethora of opportunities to make environment friendly products and undertake several conservation activities.
As a knowledge partner, TERI built the capacity of the teaching fraternity and helped them mentor students to practice environmental consciousness in their everyday lives. Going forward, Tata Steel Foundation will anchor this project, in collaboration with TERI.
About Tata Steel
Tata Steel Group is among the top global steel companies with an annual crude steel capacity of 27 million tonnes per annum (MTPA) as on March 31, 2018. It is the world's second-most geographically diversified steel producer, with operations in 26 countries and a commercial presence in over 50 countries. The Group recorded a consolidated turnover of US $20.41 billion (INR 133,016 crore) in FY18. Tata Steel Group is spread across five continents with an employee base of nearly 74,000. Tata Steel retained Industry Leader position in FY18 and ranked second overall in the DJSI assessment, 2017. The Company has been recognised as the Climate Disclosure Leader in 'Steel category' by CDP (2017). Besides being a member of the World Steel Climate Action Programme, Tata Steel was felicitated with several awards including the Prime Minister's Trophy for the best performing integrated steel plant for 2014-15 and 2015-16, Best Risk Management by CNBC TV18 (2018), 'Corporate Strategy Award' by Mint (2018), 'Most Ethical Company' award from the Ethisphere Institute for the sixth time (2018), Golden Peacock HR Excellence Award by Institute of Directors (2017), among several others.
About TERI
The Energy and Resources Institute (TERI) is an independent, multi-dimensional organisation, with capabilities in research, policy, consultancy and implementation. It has pioneered conversations and action in the energy, environment, climate change, and sustainability space for over four decades.
The institute's research and research-based solutions have had a transformative impact on industry and communities. Headquartered in New Delhi, it has regional centres and campuses in Gurugram, Bengaluru, Guwahati, Mumbai, Panaji, and Nainital, supported by a multidisciplinary team of scientists, sociologists, economists and engineers, and state-of-the-art infrastructure.