Sony and TERI empower schools to take forward water, sanitation and hygiene awareness efforts
---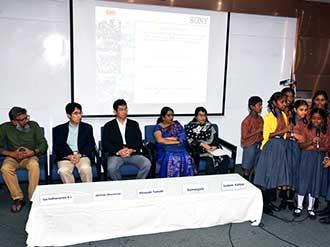 After the success of Phase 1 of Water, Sanitation and Hygiene (WASH) project, phase 2 was launched to further strengthen and sustain the education component of providing WASH facilities.
Bengaluru, 11th December 2018: The city of Bengaluru is undergoing rapid urbanisation which has been exerting pressure on its water resources. A BBC report this year placed the city second amongst the probable 11 cities that would face water crises. Keeping in mind such emerging situations, Sony India Software Private Limited, Bengaluru, and The Energy and Resources Institute (TERI) launched phase 2 of the Water, Sanitation and Hygiene (WASH) project in Bengaluru on Monday.
The WASH education programme works to bring about transformative changes related to water, sanitation and hygiene in the project schools. In the second phase of the project, Sony and TERI will work with 10 government schools of Bengaluru to impart WASH education.
Ms. Sumangala V., Director, SSLC (exams) Board and Mr Sachidhananda K J, film artist, were present at the launch event in Domlur on Monday, along with Mr Hiroyuki Tamakai, Managing Director, Sony India Software Centre.
Phase 1 of the project focused on need-based training modules, creating bi-lingual resource materials, bringing behavioural changes with regard to hand washing, littering, and water conservation among the students, and creating a cadre of peer educators in the project schools. Phase 2 of the project, tilted 'Demonstrating and sustaining WASH education in selected 10 schools of Bangalore', will build the capacities of the students and teachers, take up enhanced awareness and sensitisation sessions on WASH-related issues, equip students and teachers to become ambassadors of the issue and bring about a multiplier effect of change in schools and communities.
Speaking about the project, Mr Tamakai said, "Our motto has always been to create products and services that move people emotionally. We would like our CSR initiatives to have a similar effect on communities and thus give back to society."
On the occasion, Ms Sumangala V said, "The TERI-Sony Initiative of promoting WASH education and facilities is a wonderful programme and such programmes need to be scaled up to cover more schools. The education department will extend full support in this connection."
Under Phase 2, an assessment of the prevailing WASH facilities in the schools has been carried out to determine the prevalent infrastructural interventions in these schools with respect to the gender break up of students and teachers. Based on this, water and sanitation facilities will be provided in the schools. A WASH club has also been established in each school to spearhead WASH activities in the school and community.
Talking about targeting government schools under the project, Mr Sachidhananda KJ said, "Promoting value based learning and education is most essential for our country. Hence it's good to see such initiatives involve government schools."
"Through this project, TERI is working to bring about behavioural changes with regard to WASH issues. These small ripples will surely contribute to attainment of the Sustainable Development Goals," Livleen K Kahlon, Associate Director, Environment Education Area, TERI, said at the launch.
About TERI
The Energy and Resources Institute (TERI) is a leading think tank dedicated to conducting research for sustainable development of India and the Global South. Established in 1974, TERI has become the pre-eminent institution for research, discussion and thought leadership on environmental governance and sustainable development.
The Institute is committed to the application of thought that drives action in the direction of tackling climate change.
About Sony
Sony India Software Centre Private Limited, Bengaluru, is a wholly owned entity of Sony Corporation and its focus is to help different Sony businesses worldwide to offshore and manage IT projects in India. Today, this Centre supports key projects of various Sony companies both from on-site and as well as from offshore with significant support coming from Bangalore. Also, this Centre focus on building offshore capability to Sony group of companies and today handles some of the critical projects of Sony Corporation of America, USA, Sony Electronics Inc., USA, Sony Global Treasury plc, UK, Sony Global Solutions, Tokyo, Sony Electronics Asia Pacific Pte, Singapore, Sony (China) Limited, China, Sony Latin America Inc., USA, etc from Bangalore Centre.
For further details, please contact:
TERI - Aastha Manocha: 8447049011 | aastha.manocha@teri.res.in
Edelman - Sneha Dev: 9958000706 | Sneha.Dev@edelman.com