REMCL, TERI sign MoU to work on capacity building and development of renewable energy projects for Indian Railways
---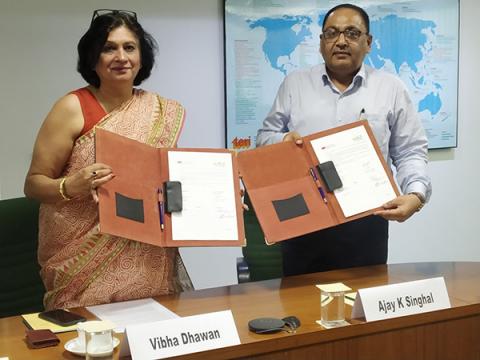 New Delhi, August 01: The Energy and Resources Institute (TERI) and the REMC Limited, a joint venture of Ministry of Railways and RITES Limited, signed a Memorandum of Understanding (MoU) to collaborate on capacity building and development of renewable energy projects for the Indian Railways in New Delhi on Monday.
The two organizations aim to collaborate on areas related to green building, performance audit, energy efficiency projects, research work related to net-zero target of Indian Railways, and renewable energy related projects. The effort would also be to build capacities of the railway professionals in the field of sustainability and technical know-how.
Signing the MoU, Mr Ajay Kumar Singhal, CEO, REMC Limited, said, "In its endeavour of energy transition and to achieve the set targets of Indian Railways on decarbonization, a net zero carbon emitter by 2030, the association and competency of TERI with their research and analytical work would certainly merit us for deliverance with proficiency."
Emphasizing the criticality of such a partnership, Dr Vibha Dhawan, Director General, TERI, added, "TERI has always believed that Railways has a pivotal role to play in our effort to reduce emissions and, therefore, is involved in multiple studies in the area. The collaboration will open up new areas of research and capacity building. REMC Limited has been actively working towards clean energy solutions and efficiency improvement in the railways sector and this MoU will further the effort in the decarbonization initiative of the REMC Limited and the Ministry of Railways."
The MoU, signed by Mr Singhal and Dr Dhawan, aligns with India's decarbonization goals -- the Panchamrit -- announced by the Hon'ble Prime Minister at COP 26 in Glasgow last year to deal with the issue of climate change. The Prime Minister had observed in his speech the important part the Railways could play in meeting the targets. He noted that the "railway system has set itself a target of making itself Net-Zero by 2030", which will "lead to a reduction of 60 million tonnes of emissions annually". Both the organizations will work together to achieve the objectives of improving efficiency and net-zero emissions by 2030.
About REMCL
REMCL is one of the primary agencies for implementing Indian Railways vision of achieving Net Zero Carbon Emission target by 2030 by exploring the business opportunities for Green Energy, in the field of wind and solar for Indian Railways while synergizing the technical resources base of both organizations i.e. Ministry of Railways and RITES Limited.
About TERI
The Energy and Resources Institute (TERI) is an independent, multi-dimensional research organization with capabilities in policy research, technology development, and implementation. Headquartered in New Delhi, TERI has regional centres and campuses in Gurugram, Bengaluru, Guwahati, Mumbai, Panaji, and Nainital, supported by a multi-disciplinary team of scientists, sociologists, economists, engineers, administrative professionals, and state-of-the-art infrastructure.