Projects engaging local communities and organisations to steer the GEF Seventh Operational Phase of Small Grants Programme in India
---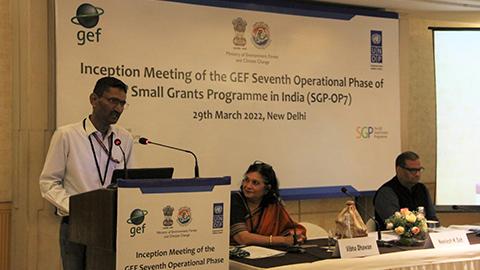 New Delhi, March 29: The Ministry of Environment, Forest and Climate Change launched the Global Environment Facility project titled "Seventh Operational Phase of Small Grants Programme in India (SGP – OP7)" in New Delhi on Tuesday, 29.03.2022. The project underscores the significance of engaging with grassroots communities to effectively tackle the impacts of climate change, biodiversity conservation and restoration of degraded land areas, in focussed landscapes in India.
The project brings together stakeholders from non-governmental, community-based and civil society organisations to enable communities and organizations to take collective action for socio-ecological resilience and sustainable livelihoods in three key landscapes of India. It will be implemented by the Ministry of Environment, Forest and Climate Change (MoEF&CC) with the partnership of the United Nations Development Programme (UNDP). The Energy and Resources Institute (TERI) is the National Host Institution for the on-ground implementation of the project.
Delivering the keynote address Mr. Neelesh Kumar Sah, Joint Secretary, MoEF&CC said, "Small grants programme can play a vital role in realising the goal of 'thinking globally and acting locally" Mr Sah pointed out that the To make effective changes on the ground it is important to get the different stakeholders on board, including the Civil Society Organizations, Non-Government Organization and local communities and projects under it must be designed to impact livelihoods positively. Placing the small grants programme in perspective, Dr. Vibha Dhawan, Director General, TERI, said it is an effective way to involve stakeholders on the ground. "Small programmes bring organisations with diversity on board and show us what is needed at the grassroots. Their participation is essential to address the global problems of climate change and resource depletion," she said. Mr. Ashish Chaturvedi, Head, Environment and Energy, UNDP, India, too emphasised the significance of this project in tackling climate change and bringing about transformative changes. "Small steps and community-led action are equally important if not more, when it comes to transformative change, as compared to large flagship initiatives" Mr Chaturvedi added. Highlighting the long legacy of the small grants programme in India, he said over 400 of them have been implemented across the country so far.
The inception workshop is aimed at building awareness on the project objectives, thematic areas, selected landscapes, and information regarding the grant disbursal procedure. Several NGOs and CSOs from the targeted landscape participated in the meeting (both in-person and in online mode). During the meeting, the project outcome, targeted environmental benefits, goals and project timelines were shared with the participants.