MoEFCC, TERI, and UNEP strategize the roadmap to 'Urban Sustainability' this World Environment Day
---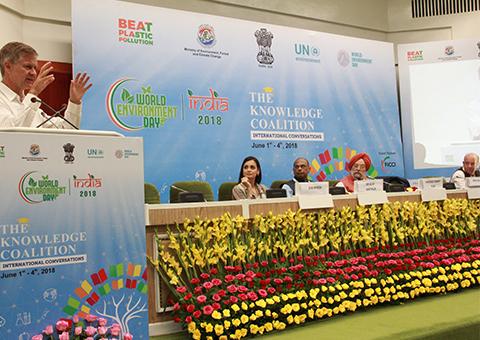 New Delhi, 3rd June 2018: Today, as a result of continued rural-urban migration and population growth, more than half of the world's population lives in urban settlements. By 2050, cities are expected to house as much as two-thirds of the global population, making urbanisation one of the twenty-first century's most transformative trends. Addressing this trend, on the occasion of World Environment Day 2018, The Energy and Resources Institute (TERI), along with Ministry of Environment Forests and Climate Change (MoEFCC) and United Nations Environment Program (UNEP), organised a multi-stakeholder meet to strategize the roadmap for environmentally sustainable urban development in Indian cities.
While cities are centres of economic activity, innovation and growth, urban population impacts the environment significantly through their consumption of food, water and energy. Forty per cent of the Indian population is expected to live in urban settings by 2030. By 2050, India's population is expected to grow to 1.7 billion, adding further pressure on the country's urban capacity. With these numbers, it is imperative to devise smart urban solutions that can help achieve the New Urban Agenda (NUA) and Sustainable Development Goals (SDGs).
To support the cause of environment conservation, UN's Goodwill Ambassador for environment, Dia Mirza was also present at the event.
The multi-stakeholder event brought together government, UN, and TERI's perspective on the implementation of the NUA, and the environmental dimensions of the SDGs. The session further threw light on translating the global best practices of smart cities to local approaches. This was followed by a panel discussion where representatives from national and local governments, UN, private sector, NGOs and academia, discussed the planning and development of environmentally Smart Cities through partnerships among different stakeholders.
Highlighting the importance of sustainable smart cities, Shri Hardeep Singh Puri, Minister of State (Independent Charge), Housing and Urban Affairs, India said, "India will succeed in achieving its SDGs. Today, we are witnessing a behavioural paradigmatic shift, and we need to support that through skill upgradation. Our workers in the building sector need to be trained so that their choice of raw materials is sustainable.
To truly build smart cities, we also need to strengthen the city transport that can support the mass traffic. Further, ULBs need to be empowered, and we need a dedicated and trained municipal cadre for the same."
Speaking on the occasion, Dr Ajay Mathur, Director General, TERI, said, "Protection of the environment is the call of the day. With urban growth impacting the environment significantly, there is a need to create a stable policy framework for development of infrastructure and integrated spatial planning at all levels: national, state and city. With support from the government, we continue to create impact in emerging urban areas such as Amravati, the new capital city of Andhra Pradesh. We hope to bring together other stakeholders in our bid to creating more liveable cities".
Mr. Erik Solheim, Executive Director, United Nations Environment Programme, said,
"Today, 50% of humans are living in the cities. More than ever, there is a need to build strong urban infrastructure that can support the rising population. For smart, sustainable cities, it is essential to have a greener architecture, robust city transport, and good waste management policies."
TERI works extensively in the field of urban sustainability and building climate resilience of cities, and provides technical assistance and capacity building support to urban local bodies for the same. TERI is involved in developing a city-level climate action plan for the new city of Amaravati and also assisted Dharamshala Municipal Corporation with its Smart City Proposal. TERI helps cities prepare urban sustainability guidelines for enhancing liveability, and achieving low carbon and resilient growth. The Institute also prepares knowledge products in the form of research reports, policy briefs, journal articles, research papers and documentaries for addressing urban development issues.
About TERI
The Energy and Resources Institute (TERI) is a leading think tank dedicated to conducting research for sustainable development of India and the Global South. Established in 1974, TERI has become the pre-eminent institution for research, discussion and thought leadership on environmental governance and sustainable development.
TERI is ranked globally as one of the five most impactful think tanks by the International Center for Climate Governance. The Institute is committed to the application of thought that drives action in the direction of tackling climate change .
For further information, contact:
TERI:
Pallavi Singh: pallavi.singh@teri.res.in
Edelman:
Sneha Dev: Sneha.dev@edelman.com