Modern bioenergy 'the overlooked giant' of the renewable energy field, says IEA
---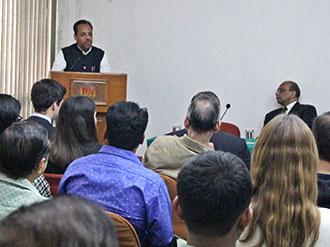 TERI & CEEW co-host India launch of IEA's 'Renewables 2018' market analysis and forecast report
New Delhi, November 13, 2018: The Energy and Resources Institute (TERI) and Council on Energy, Environment and Water (CEEW) co-hosted the India launch of International Energy Agency's (IEA) latest report, Renewables 2018, on renewable energy and technologies from 2018 to 2023, in New Delhi today. The report provides global trends and developments for renewable energy in the electricity, heat and transport sectors, Mr Cédric Philibert, Senior Analyst, Renewable Energy Division, IEA presented the report in the presence of Dr Ajay Mathur, DG, TERI, and Dr Arunabha Ghosh, CEO, CEEW.
The report highlights that modern bioenergy will have the biggest growth in renewable resources between 2018 and 2023, underscoring its critical role in building a robust renewables portfolio and ensuring a more secure and sustainable energy system. Renewables will continue their expansion in the next five years, covering 40% of global energy consumption growth. Their use will continue to increase rapidly in the electricity sector and will account for almost a third of total world electricity generation in 2023. The report also highlights that renewables use will expand far more slowly in the transport and heat sectors due to weaker policy support and additional barriers to deployment. Consequently, the development and growth of renewables in both the sectors will be critical to enable the full transition of energy generation to low-carbon pathways.
Speaking on the occasion, Dr Ajay Mathur, DG, TERI, said, "The IEA report provides a timely analysis for those working in energy transitions and advocating for a larger role of renewables in the economy. Its findings on the role of bioenergy, especially regarding their role in heat and transport sectors, will help address a critical gap in expanding the scope of renewables beyond power generation."
Dr Arunabha Ghosh, CEO, CEEW, said, "The annual IEA renewable energy market report gives a timely and valuable update on the advances made in renewable energy markets around the world. This edition of the report is particularly insightful in bringing attention to the critical issue of the limited use of renewables in end-use sectors, especially heat and transport. CEEW has consistently called for the need to consider 'renewables beyond electricity'. In this regard, we value the analysis in the REMR and hope to continue collaborating with the IEA to support the global energy transition through broad applications and robust and deep markets."
The focus on bioenergy is part of the IEA's analysis of 'blind spots' of the energy system - issues that are critical to the evolution of the energy sector but that receive less attention than they deserve - such as the impact of air conditioners on electricity demand, or the growing impact of petrochemicals on global oil demand. It also identifies additional untapped potential for bioenergy to "green" and diversify energy usage in the industry and transport sectors.
Dr Fatih Birol, Executive Director, IEA, said, "Modern bioenergy is the overlooked giant of the renewable energy field. Its share in the world's total renewables consumption is about 50% today, in other words as much as hydro, wind, solar and all other renewables combined. We expect modern bioenergy will continue to lead the field and has huge prospects for further growth. But the right policies and rigorous sustainability regulations will be essential to meet its full potential."
The report underlines that position of China as the global growth leader in renewable energy as a result of policies to decarbonise all sectors and reduce harmful local air pollution. It will become the largest consumer of renewable energy, surpassing the European Union, by 2023. Of the world's largest energy consumers, Brazil has the highest share of renewables by far - almost 45% of total final energy consumption in 2023, driven by significant contribution of bioenergy and hydropower.
The report also brings out the forecast for the expansion of solar PV capacity to almost 600 GW by 2023 (from the 2017 level of 391 GW). This will make solar PV capacity to be more than all other renewable power technologies combined, or as much as twice Japan's total capacity. This growth is expected to continue, and solar PV capacity is expected to reach 1000 GW by 2030. China remains the absolute solar PV leader by far, holding almost 40% of global installed PV capacity in 2023. The United States remains the second-largest growth market for solar PV, followed by India, whose capacity quadruples.
Wind remains the second-largest contributor to renewable capacity growth, expected to expand by 60%. In absolute terms, hydropower remains the largest renewable electricity source by 2023.
At the launch, the role of RE as a driver of economic growth in the country was discussed in a panel discussion moderated by Dr Ashvini Kumar, Senior Director, TERI. Panelists included Dr OS Sastry, former DG, National Institute of Solar Energy (NISE), Mr Chintan Shah, Director (Technical), Indian Renewable Energy Development Agency Ltd. (IREDA), Ms Kanika Chawla, Senior Programme Lead, Renewable Energy Programme, CEEW, Dr DK Tuli, DBT-IOC Advanced Bio-Energy Research Centre, Indian Oil Corporation, Faridabad, Mr Ravi Verma, Head, Strategic Affairs and Policy, Avaada Power Pvt. Ltd., and Mr Sunil Dhingra, Senior Fellow, TERI.
About TERI
The Energy and Resources Institute (TERI) is a leading think tank dedicated to conducting research for sustainable development of India and the Global South. Established in 1974, TERI has become the pre-eminent institution for research, discussion and thought leadership on environmental governance and sustainable development.
TERI is ranked globally as one of the five most impactful think tanks by the International Center for Climate Governance. The Institute is committed to the application of thought that drives action in the direction of tackling climate change.
For further details, please contact:
TERI: Aastha Manocha: aastha.manocha@teri.res.in
Edelman: Sneha Dev: 9958000706 | Sneha.Dev@edelman.com