Ministry of Ports, Shipping and Waterways and TERI come together to set up the country's first National Centre of Excellence in Green Port and Shipping
---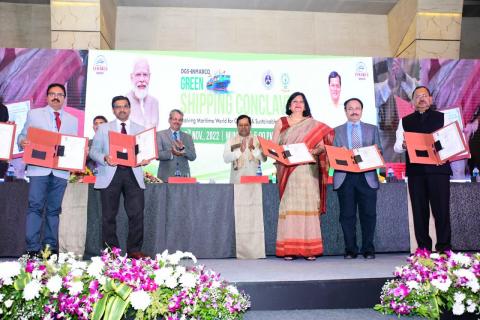 Mumbai, November 18, 2022: In a significant move to steer India's shipping industry towards carbon neutrality and circular economy, the Ministry of Ports, Shipping and Waterways (MoPSW) entered into a partnership with The Energy and Resources Institute (TERI) in Mumbai on Friday to set up the country's first National Centre of Excellence in Green Port and Shipping (NCoEGPS).
The Memorandum of Agreement (MoA) was signed in the presence of Mr Sarbananda Sonowal, Union Minister of Ports, Shipping and Waterways and Dr Sanjeev Ranjan, Secretary, MoPSW, at the INMARCO 2022 Green Shipping Conclave in Mumbai.
According to the MoA signed by the ministry along with the four entities under it -- the Deendayal Port Authority, Paradip Port Authority, VO Chidambaranar Port Authority and Cochin Shipyard Limited and The Energy and Resources Institute (TERI), the NCoEGPS will develop regulatory framework and alternate technology adoption roadmap for green shipping in India.
Dr Vibha Dhawan, Director General, TERI, said about the collaboration, "Greening the shipping sector is vital for India to meet the Paris Agreement goals. The setting up of the NCoEGPS is the right step in the direction as it will aid the development of frameworks that will enable the sector achieve carbon neutrality."
Pointing out that the NCoEGPS will be home to multiple technological arms to support the port and shipping sector, Dr Dhawan said, "The centre will aim to provide solutions to the problems faced by the sector through scientific research, and will focus on energy management, emission management, and sustainable maritime operations."
The national centre to be housed at TERI's field station in Gurugram under the Sagarmala Programme will provide decision makers at both the national and sub-national level with requisite methodology to implement carbon neutrality measures in the shipping sector. It will support the ministry in maintaining a policy and regulatory framework for a green alternative technologies roadmap.
With the energy intensive shipping industry striving to transition towards greener and cleaner sources, the NCoEGPS will focus on electrification process "through renewable energy, carbon capture and storage and other emerging alternate fuel technologies including green fuels." With TERI as the knowledge and implementation partner, the NCoEGPS will be involved in the training and capacity building of different stakeholders for fast-tracking the adoption of green measures identified through research.
About TERI
The Energy and Resources Institute (TERI), based in India, is an independent, multi- dimensional research organization with capabilities in policy research, technology development, and implementation. An innovator and agent of change in the energy, environment, climate change and sustainability space, TERI has pioneered conversations and action in these areas for nearly five decades. Headquartered in New Delhi, it has centres in six Indian cities, and is supported by a multi-disciplinary team of scientists, sociologists, economists, engineers, administrative professional and state-of-the-art infrastructure.