Lifestyle changes demand a paradigm shift in consumption patterns, say experts at WSDS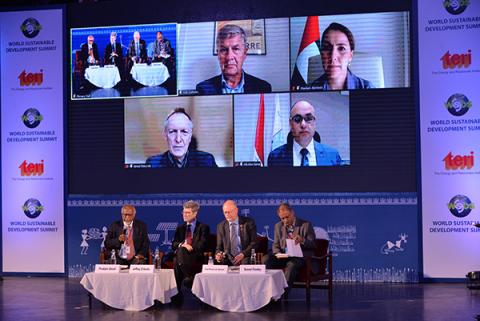 New Delhi, February 23, 2023: The paradigm shifts needed to alter consumption patterns and globalise lifestyle changes were highlighted by an expert panel from across the globe as it deliberated on 'Lifestyle for Environment: Institutions, Policies and Social Movements' at the World Sustainable Development Summit in New Delhi on Wednesday.
Panellists from the spheres of politics, science, policy and economics underscored the imperative need for lifestyles to change if sustainable development has to be mainstreamed. Observing that initiatives such as India's Lifestyle for Environment (LiFE) reflect the true empowerment of a community to solve global challenges, Ms Mariam Almheiri, Minister of Climate Change and Environment, United Arab Emirates, illustrated the initiatives taken by the UAE to address lifestyle changes. Noting that awareness is key, Ms Almheiri said, "In the UAE, We have to reduce our food loss and food waste by at least 50% by 2030. Awareness campaigns have been held for more sustainable production."
Dr Ali Abou Senna, CEO, Egyptian Environmental Affairs Agency and Assistant Minister, pointed out that Egypt has always drawn up strategies and plans that would integrate environment decisions and climate action in economic and development sectors.
Giving a different perspective to the impact of behavioural changes, Mr Jeffrey D. Sachs, Professor, Earth Institute and Columbia University, observed that a decarbonized system will involve more technology changes than lifestyle changes. "A lot of the transformations will be in the systems we live on, like the power grid, that will be deeply transformed," pointed out Professor Sachs. He added that "We would solve three quarters of emissions not with lifestyle changes but through technological transformation, but our lives will change considerably in the future, and by and large, for the better if we adhere to sustainable development norms."
Mr Jean-Pascal van Ypersele, former IPCC Vice-Chair, emphasized the link between lifestyles and climate change when he highlighted that all lifestyles will be affected by climate change. "The lifestyles of the most vulnerable are the most affected by climate induced circumstances. Climate is changing because we have been using the atmosphere as a dustbin."
Emphasizing the varying role played by developed and developing countries in exacerbating the emission scenario, both at present and historically, he said, "The rich members of the community pollute much more in terms of GHG and they have to act first. Demand management does not mean demand decrease everywhere."
Dr Erik Solheim, former Executive Director, UN Environment Programme, noted that it is necessary to pick up a positive agenda for lifestyle change, one that takes us closer to nature. Asserting the need to change the way we extract and consume resources, Dr Janez Potočnik, co-chair, International Resource Panel said, "Our work has shown that material extraction and processing are having the triple planetary crisis. They cause 50% of global climate impacts and over 90% of the land related biodiversity loss and water stress and over a third of health related pollution. By changing how we extract and consume resources, we have a huge opportunity to simultaneously address all the crisis."
Dr Prodipto Ghosh, Distinguished Fellow, TERI, pointed out that lifestyles need to grow into a global discipline and for that conceptual aspects have to translate into a set of high-level principles. Dr Suneel Pandey, Director, TERI, emphasized global partnerships are needed to achieve the benefits of life.