Launch of 'Water Sustainability Campaign – forging a Water Smart Delhi'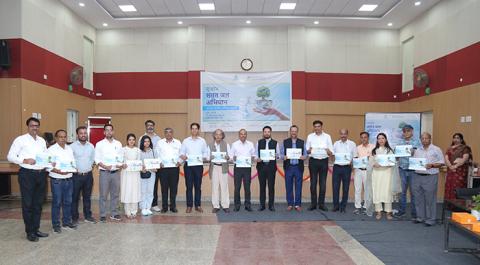 New Delhi, October 29, 2023: A campaign titled 'Water Sustainability Campaign – forging a Water Smart Delhi' was launched on Saturday by Shri Durgesh Pathak, MLA Rajendra Nagar Assembly to sensitize the residents of Delhi about the value and preciousness of water. Initiated by The Energy and Resources Institute (TERI) with support from JWIL Infra Limited, the campaign aims to raise awareness in all levels of society about the importance of saving water. The goal is to orient attitude and behaviour of local residents to improve water use efficiency and reduce its wastage.
Shri Durgesh Pathak encouraged the residents to make water conservation as the habit in their daily life. He stressed that collective efforts by all the citizens of Delhi can only make Delhi a Water Smart city. He also released a leaflet with 10 ways to forge a water smart Delhi.
The campaign was launched at Sarvodaya Bal Vidyalaya, Naraina Vihar, New Delhi on October 28 in the presence of eminent guests including Mr PK Jain, Chief Engineer, Delhi Jal Board; Mr Vijay Mansukhani, representative of Naraina Vihar RWA Federation; Mr Risabh Sethi, CEO, JWIL Infra Limited; Dr SK Sarkar, Distinguished Fellow, TERI; and Mr Anshuman, Director, Water Resources Division, TERI.
During the ceremony, school students presented a skid highlighting the issues related to water in Delhi. Nukkad Nataks were presented by organizations like Awaaz, Anukriti and TERI School of Advanced Studies, which highlighted the possibility of 'Day Zero' – a day when Delhi's taps run completely dry. Such a crisis has already been witnessed by major cities like Cape Town in South Africa and Chennai in 2019. Nataks presented various solutions which can be taken to protect Delhi from such a crisis.
Also, a message was conveyed to community to prevent misuse of water and significance of connecting with authorized water supply system of Delhi Jal Board to ensure quality of water supply services by the board.
First phase of campaign will continue until March 2024, during which the message related to water conservation through different modes of communication like Social Media, Nukkad Nataks, Citizen Dialogues, Kids Forum, etc. in different areas of the city.