India on track to fulfilling climate commitments: Harsh Vardhan at World Sustainable Development Summit 2019
---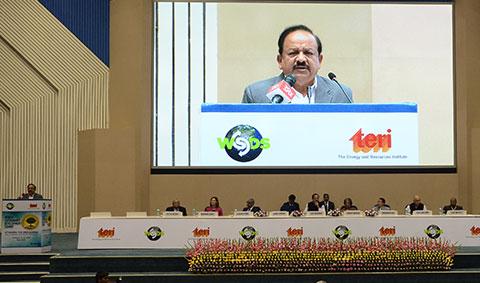 Resource Efficiency Cell in collaboration with TERI to help frame blueprint for national integrated resource efficiency policy
- Hon'ble Prime Minister of Fiji Frank Bainimarama conferred with 'Sustainable Development Leadership Award 2019'
- The World Sustainable Development Summit 2019 to reiterate India's vision for a greener tomorrow and to focus on energy transitions, clean oceans, mobilising development finance, environmental sustainability and sustainable mobility
- Over 2000 delegates and speakers from over 40 countries to take part in the Summit in New Delhi on 11-13 February 2019 including policy makers, researchers, think tanks, diplomats and corporates in the field of development, energy, and environment
New Delhi, February 11, 2019: Building on the momentum of last year's summit, The Energy and Resources Institute (TERI), one of India's leading think tanks, kickstarted the World Sustainable Development 2019 (WSDS 2019). The summit was inaugurated by Shri M. Venkaiah Naidu, Hon'ble Vice President, at Vigyan Bhawan today in New Delhi. Mr. Nitin Desai, Chairman, TERI, delivered the welcome address.
This year, TERI honoured Hon'ble Prime Minister of Fiji Frank Bainimarama with the Sustainable Development Leadership Award 2019 in recognition of his outstanding contributions towards sustainable development in Fiji. Through his video message, Mr. Frank Bainimarama said, "It's not the size of the country, but the size of the voice. With climate change, we all face the same future."
Delivering the inaugural address, Hon'ble Vice President of India Shri Venkaiah Naidu spoke about the many facets of sustainable development like inclusive development, sustainable mobility and urbanisation, energy security, waste management and green innovation. "We need nature and culture for a better future," he said.
Dr Harsh Vardhan, Hon'ble Minister for Environment, Forest & Climate Change, said, "Climate change and environmental problems are amongst the biggest challenges today. It goes without saying that these issues need to be addressed collectively by all of us before it is too late."
Speaking about the Ministry of Environment, Forests and Climate Change collaborating with TERI to set up a Resource Efficiency Cell, Dr. Harsh Vardhan said, "Anticipating increased demand for raw materials in the future, it is vital to institute the best in resource efficiency as an effort toward decoupling economic growth and human wellbeing from ever increasing consumption of natural resources and the resulting impacts. The Cell will enable inter-ministerial and inter-departmental synergy in promoting material resource efficiency in India while helping frame the blueprint of the integrated Resource Efficiency policy for India."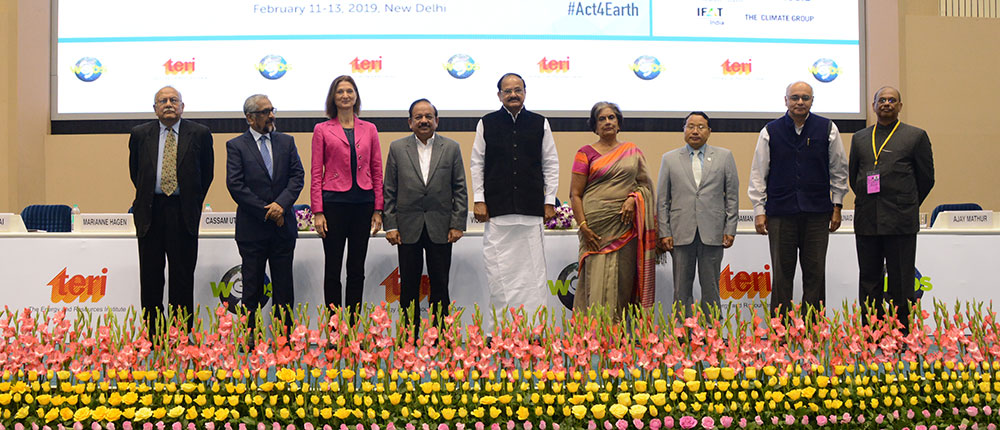 The three-day Summit seeks to bring together over 2000 delegates including global leaders, policy makers, government top officials and thinkers in the fields of sustainable development, energy and environment sectors. Themed on 'Attaining the 2030 Agenda: delivering on our promise', WSDS 2019 seeks to create action frameworks to resolve some of the most urgent challenges facing developing economies in the backdrop of climate change, including – clean oceans, transport & mobility, sustainable agriculture, climate finance and energy transition. Its main aim is to fast-track solutions to financing development, renewable energy, sustainable value chains and other far-reaching, systemic challenges represented by the United Nations' Sustainable Development Goals (SDGs).
Dr Ajay Mathur, Director General, TERI said, "Platforms such as these are crucial for building on global best practices and ensuring that policy enables an environment that translates into tangible benefits for the world at large. We look forward to a world that is clean, green and yet viable. We need products, business models and policies to make this happen."
The Summit will host several eminent personalities, including Ms Chandrika Kumaratunga, Former President of Sri Lanka; Mr Cassam Uteem, Former President of Mauritius; Ms Marianne Hagen, State Secretary (Deputy Minister), Ministry of Foreign Affairs, Norway; Mr Vidar Helgesen, Norway's Special Envoy for the Ocean, Ministry of Foreign Affairs, Norway; Mr Joshua Wycliffe, Permanent Secretary for Ministry of Waterways and Environment, Fiji; Mr Suresh Prabhu, Hon'ble Minister, Ministry of Commerce & Industry and Civil Aviation, India and, Dr. Harsh Vardhan Hon'ble Minister, Ministry of Science & Technology, Ministry of Environment, Forest and Climate Change and Ministry of Earth Sciences, India; Mr HS Puri, Hon'ble Minister of State (IC), Ministry of Housing and Urban Affairs, India; Mr Tomasz Chruszczow, High Level Climate Champion for Climate Action, Poland; Prof. Nicholas Stern, IG Patel Professor of Economics and Government, Co-Director of the India Observatory & Chair - Grantham Research Institute, LSE; and Prof Jeffrey D. Sachs, Director, SDSN & Director, Centre for Sustainable Development, Columbia University, USA.
WSDS 2019 will see 25 thematic tracks and eight plenary sessions covering the five key themes of Climate, Environment, Habitat, Energy and Resource Management. Discussions will focus on, inter alia:
Cleaning the Air in India and its Cities
Moving Towards Cleaner Oceans
India's Renewable Revolution: Towards a Cleaner, Cheaper Electricity System
Innovations in Climate Finance to Achieve Scale, Speed and Impact
Rural Electricity Access in India: Taking a Leap from Grid Availability to Customer Service
About WSDS
The World Sustainable Development Summit (WSDS) is the annual flagship event of TERI. It has, in its journey of seventeen years, become a focal point for global leaders and practitioners to congregate at a single platform to discuss and deliberate over climatic issues of universal importance. The Summit series has emerged as the premier international event on sustainability which focusses on the global future, but with an eye on the actions in the developing world which could bend our common future. The Summit series has, over the years, brought together 47 heads of state and government, 13 Nobel laureates, ministers from 76 countries, 1600 business leaders, 1800+ speakers and over 12,000 delegates from across the world.
WSDS now strives to provide long-term solutions for the benefit of the global community by assembling the world's most enlightened leaders and thinkers on a single platform.
About TERI
The Energy and Resources Institute (TERI) is an independent, multi-dimensional organisation, with capabilities in research, policy, consultancy and implementation. It has pioneered conversations and action in the energy, environment, climate change, and sustainability space for over four decades.
The institute's research and research-based solutions have had a transformative impact on industry and communities. Headquartered in New Delhi, it has regional centres and campuses in Gurugram, Bengaluru, Guwahati, Mumbai, Panaji, and Nainital, supported by a multidisciplinary team of scientists, sociologists, economists and engineers, and state-of-the-art infrastructure.
For further information, contact:
TERI:
Pallavi Singh - pallavi.singh@teri.res.in
Aastha Manocha - aastha.manocha@teri.res.in

Edelman:
Mehak Arora - Mehak.arora@teri.res.in
Swati Sharma - swati.sharma@edelman.com