India and Japan should take the common awareness on lifestyle reform to the world: Mr Bhupender Yadav and Mr Akihiro Nishimura at India-Japan Week event
---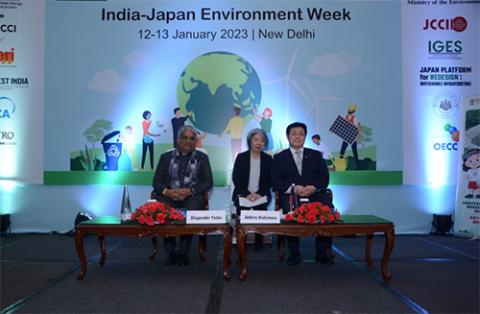 New Delhi, January 12, 2023: With India and Japan taking over the presidencies of G20 and G7 respectively, ministers for environment in India and Japan, Mr Bhupender Yadav and Mr Akihiro Nishimura, underscored the need for the two countries to take the common awareness of lifestyle reform to the world while leading the global discourse on climate change, biodiversity loss, circular economy and plastic pollution.
The ministers were speaking at an event on 'Building a Resilient Decarbonized Society in India through Environmental Infrastructure and Technology' held under the aegis of the ministries of environment for both India and Japan, and co-organised by The Energy and Resources Institute (TERI), as part of the India-Japan Environment Week in New Delhi on Thursday.
Asserting the importance of a human-centric approach to heal the planet, Mr Yadav, Union Minister for Environment, Forest and Climate Change (MoEFCC), said, "To save mother Earth from the planetary challenges of climate change, pollution, and loss of biodiversity, we need collective action that is guided by the founding principles of the Rio Convention. Unsustainable production and consumption need urgent attention."
Observing the role of the India Japan Industrial Competiveness Partnership in setting a roadmap to further industrial cooperation between the two countries in areas of MSMEs, manufacturing and supply chains, Mr Yadav added, "It is the need of the hour to orient industrial development towards sustainable production and to be a tool for nudging sustainable consumption."
Highlighting the initiative undertaken by the Japanese government to promote lifestyle innovation – quite like India's Mission LiFE -- Mr Akihiro Nishimura, Minister of the Environment, Japan (MOEJ), said, "The government of Japan is co-operating with businesses, local governments, NGOs to promote lifestyle innovation. Since the two countries share the common awareness that lifestyle reform is the key to decarbonisation, we shall drive it across the world through our friendship."
Mr Nishimura emphasized that "normalising private sector fund is indispensable" if the global temperature rise has to be restricted to 1.5 degree Celsius in tune with the Paris Agreement. "For that matter, the government of Japan at COP 27 embarked upon an international partnership with the establishment of a high integrity carbon market with the participation of more than 70 countries and organisations, including India," he added.
Speaking at the event, Mr Susumu Wakamori, President, Japan Chamber of Commerce and Industry in India (JCCII), noted the industry body will work towards creating "a better circle between environment and economy" including the expansion of private investment on climate change counter measures. "I hope the India-Japan Environment Week will help promote collaboration and technology transfer between the private sector in India and Japan," he said at the event co-organised by the Institute for Global Environmental Strategies, Federation of Indian Chambers of Commerce & Industry (FICCI), Invest India, JCCII, and Japan Platform for Redesign: Sustainable Infrastructure.
Mr Subhrakant Panda, President, Federation of India Chambers of Commerce and Industry (FICCI), drew attention to the tremendous growth in trade between India and Japan over the years. Highlighting the potential for Indo- Japanese environmental dialogue, he said, "It will bring about transformative ideas and practical solutions for current challenges while showing the way ahead for business and industries."
Mr RR Rashmi, Distinguished Fellow, TERI, in his keynote address on the 'Environmental Policy Trends for Building a Decarbonized Society in India' set decarbonisation in context when he underscored its criticality in achieving climate goals. "India contributes about 7 per cent of the global emissions. But if we consider India's historical contribution to emission, it is just 4 per cent," said Mr Rashmi.
With India's updated NDCs focussing on the 2030 goals, Mr Rashmi said, "Our target to move to a non-fossil fuel-based economy requires India to ramp up its RE capacity. We have achieved 42 per cent of our RE capacity in 2022, which means out of the total 408 GW electricity generation capacity, 42 per cent is in the form of RE." Highlighting the difference between 'capacity and generation', he added that 78 per cent of our energy needs are still met by convention fuels. "This is where the challenge lies," he added.
In his address on 'Environmental Infrastructure and Technologies Needs for Building a Decarbonized Society in India', Mr Anagh Singh, Senior Manager, Invest India, noted that while climate change was posing significant threats to Indian economy, it was also presenting economic opportunities for India and partner countries to develop new technologies. "Industries required to decarbonise need to be developed, manufactured and deployed," he added.
Bilateral cooperation on environment between India and Japan spans areas of climate change, air and water pollution, and also on the transfer of low-carbon technologies from Japanese companies to Indian companies. The two-day event will bring together experts, industry leaders and stakeholders from both countries to deliberate on issues of waste management, carbon markets, clean energy technologies, air and water pollution, and the Japan-India Technology Matchmaking Platform (JITMAP). Stakeholders will discuss the challenges in building a resilient decarbonized society in India, and moot the interventions needed to further the collaboration among central and local governments and the private sector.
Watch the session proceedings here:
About TERI
The Energy and Resources Institute (TERI), based in India, is an independent, multi- dimensional research organization with capabilities in policy research, technology development, and implementation. An innovator and agent of change in the energy, environment, climate change and sustainability space, TERI has pioneered conversations and action in these areas for nearly five decades. Headquartered in New Delhi, it has centres in six Indian cities, and is supported by a multi-disciplinary team of scientists, sociologists, economists, engineers, administrative professional and state-of-the-art infrastructure.