Guyana Vice President, Union Environment Minister, and COP28 President-Designate to inaugurate the World Sustainable Development Summit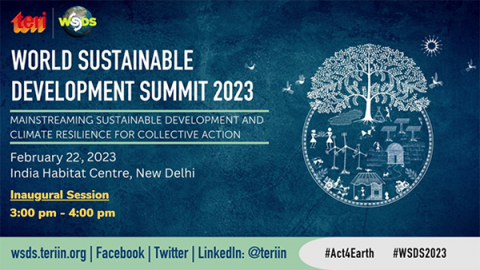 New Delhi, February 21, 2023: The Vice President of Guyana, the COP28-President designate, and the Union Minister for Environment, Forest and Climate will inaugurate the 22nd edition of the World Sustainable Development Summit (WSDS) hosted by The Energy and Resources Institute (TERI) as it opens in New Delhi on Wednesday.
Dr Bharrat Jagdeo, Vice President, Guyana will deliver the Inaugural Address and set off the international participation at WSDS which this year is being held on the theme of 'Mainstreaming Sustainable Development and Climate Resilience for Collective Action' from February 22-24, 2023. The Opening Address will be given by Mr Bhupender Yadav, Union Environment Minister, while Dr Sultan Al Jaber, the COP28-President designate-UAE will deliver the Keynote Address.
Through its Low Carbon Development Strategy 2030, Guyana has put in place a roadmap to energy transitions and a larger decarbonisation process. Being a country with one of the largest forest cover, Dr Jagdeo is expected to share insights on Guyana's natured-centred approaches to sustainable development.
With the pivotal Global Stocktake set to conclude later this year in what is touted to be a high-stakes negotiations at COP28 in UAE, Dr Al Jaber, the Special Envoy on Climate Change, is expected to highlight the priority areas of engagement at the climate conference. India, on the other hand, announced its 2030 targets and 2070 net-zero goals at COP26 at Glasgow.
"The WSDS inaugural brings together on one platform global voices that will have a significant say in how the planet's path to healing and resilience will evolve. As the host of COP28– the UAE– remains a critical player in steering climate negotiations to a place where the concerns of the Global South are addressed, be it climate finance or loss and damage. Guyana is a torchbearer for the planet when it comes to nature-centred approach to conservation," said Dr Vibha Dhawan, Director General, TERI. Mr Nitin Desai, Chairman – Governing Council, TERI, will deliver the Welcome Address at the WSDS Inaugural Session.
The three-day Summit will have ministers from across the world, top government representatives, political and thought leaders, and chiefs of international organizations deliberating on critical themes of G20 leadership and green development pact; equity and climate justice; driving and financing sustainable development; inclusive green growth; energy transitions and sustainable lifestyles.
Mr Simon Stiell, Executive Secretary, United Nations Framework Convention on Climate Change, will deliver the multilateral leadership address on 'equity and climate justice. Ms Najla Bouden, Prime Minister, Tunisia; Mr Sarbananda Sonowal, Union Cabinet Minister, Ministry of Ports, Shipping and Waterways; Ms Anne Beathe Tvinnereim, Minister of International Development, Norway; Dr Achim Steiner, Administrator, United Nations Development Programme; Professor Jeffrey Sachs, Columbia University; Prof Jean-Pascal van Ypersele, former IPCC Vice-Chair; Dr Bruno Oberle, Director General of the International Union for Conservation of Nature; Dr Soumya Swaminathan, Former Chief Scientist, World Health Organization; Ms Leena Nandan, Secretary, MoEFCC; Prof. Lindiwe Sibanda, Chair, CGIAR System Board are among a few notable speakers set to take part in the Summit.
To know more: https://wsds.teriin.org/
For Media Registration: https://bit.ly/WSDS2023Media
WSDS 2023 Thematic Video: https://youtu.be/4z8eM2Ka_54