The GRIHA Trophy at NASA
---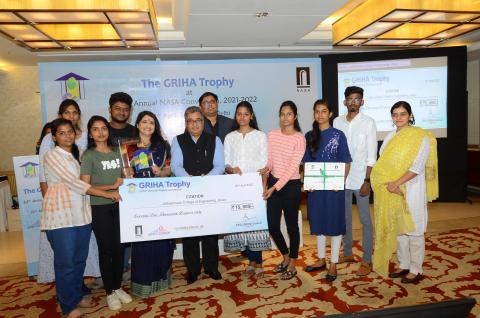 New Delhi, April 22: GRIHA Council hosted a showcase for the winning entries of "The GRIHA Trophy at the 64th Annual NASA Convention" on April 22, 2022, Friday, in New Delhi.
The GRIHA Trophy was launched at NASA (National Association of Students of Architecture) in 2013-14, with an aim to jointly promote green buildings and sensitize students towards sustainable design. Each year, unique design briefs are provided to allow students the opportunity to push the limits of their creativity and showcase their skills in designing projects of varying scale and typologies, centric to the concept of sustainability.
The competition brief for this year required the students to design a GST (commercial) building in Ghaziabad in accordance with the GRIHA v.2019 rating system. The 2021-22 GRIHA Trophy was supported by MRSS Sons Pvt. Ltd. and Saint Gobain India Pvt. Ltd., and was very well-received with more than 25 entries from all over India. The jury panel included Ms Trupti Doshi, Principal Architect and Co – Founder, The Auroma Group; Mr Monish Siripurapu, Founder and principal, Ant Studio; Mr Venu Gopal, Manager – Design, Saint Gobain India Pvt. Ltd.; Ms Rashmi Dagar, MRSS Sons Pvt Ltd.; Mr Akash Deep, Area Convenor and Senior Program Manager, GRIHA Council; and Mr Ankit Bhalla, Deputy Manager, GRIHA Council.
Speaking on the occasion, Mr Sanjay Seth, Vice President and Chief Executive Officer, GRIHA Council said that the collaboration with NASA for the GRIHA Trophy will sensitize students on environment, ecology, climate responsive design, green buildings and innovative technologies. He urged students to use the platform to enhance their expertise and resources in the journey of becoming an architect of the future and promote the change we need for a sustainable future.
Addressing the audience, Ms Sapna, Vice-President, Council of Architecture and Chief Architect, Department of Architecture, Punjab, stated that competitions such as the GRIHA trophy at NASA would drive the entire construction sector to abating climate change as it made students research and deliberate to create innovative climate responsive solutions.
With a green building footprint exceeding 53 million square meters, GRIHA Council is synonymous with sustainable development in India. It is seen as an effective agent of change in addressing issues related to air quality, the protection of bio-diversity and the pressing need to reduce greenhouse gas emissions. In alignment with these advancements in problems and solutions alike, GRIHA Council introduced GRIHA v.2019 with a focus on whole life and holistic sustainability. It now includes parameters of life cycle assessment and costing, an environmental performance index for water and strategies for external site development, along with updated benchmarks in line with the revised national norms and aims to further negate the impact of the built on the environment while moving towards net positivity.
Adhiyamaan College of Engineering, Hosur, was declared the winner, followed by three special mentions - APIED D.C. Patel School of Architecture, Gujarat; Priyadarshini Institute of Architecture & Design Studies, Nagpur and Department of Architecture and Planning, VNIT, Nagpur.
Speaking on the need of encouraging the youth to design sustainably, Mr Monish, the moderator for the event, lauded the participants for their thought provoking entries. He expressed his happiness at seeing students prove their mettle and establish the relevance of healthy competition by pushing the boundaries of ingenuity and innovation.
Congratulating the winners, Ms Shabnam Bassi, Secretary and Treasurer, GRIHA Council observed that the GRIHA Trophy at NASA is a first-hand opportunity to explore sustainability strategies for the next generation of architects in collaboration with GRIHA, India's own green building rating system.
About GRIHA Council
Green Rating for Integrated Habitat Assessment (GRIHA) Council is an independent, not- for -profit society jointly setup by The Energy and Resources Institute (TERI) and the Ministry of New and Renewable Energy (MNRE), Government of India to promote and administer green buildings in India. GRIHA was adopted as the National Rating System for Green Buildings in India by the Ministry of New and Renewable Energy (MNRE), Government of India in 2007.
About NASA India
The National Association of Students of Architecture (NASA) India is the largest architectural student body of Indian sub-continent with more than 230-member colleges. The main aim of NASA India is to facilitate interaction among students of architecture from all over the country and provide a knowledge sharing platform. NASA India holds several events at the zonal level and one annual convention at the national level. During these events several competitions for various design trophies are conducted.
GRIHA Council and NASA Collaboration
GRIHA Council and NASA India have signed a Memorandum of Understanding to jointly promote the concept of green buildings and sustainable habitat through the GRIHA platform and sensitize students towards sustainable design. As part of this MoU, GRIHA Council and NASA shall cooperate to execute the GRIHA trophy at NASA annual conventions. Students from NASA member colleges across the country participate to compete for the GRIHA Trophy, which is adjudged by a prominent jury. The winning entries get showcased during the annual GRIHA Summit/WSDS, where students are invited to share their designs and schemes with participating delegates.
For more details, please contact:
Mr Ankit Bhalla, GRIHA Council at
ankit.bhalla@grihaindia.org
Ms Srishti Gaur, GRIHA Council at
srishti.gaur@grihaindia.org